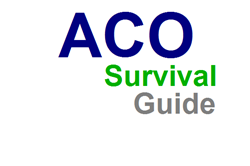 The ACO Survival Guide provides an overview of the regulations and analyzes the technological challenges faced by ACOs and our training product takes you step-by-step through the regulations.
Tampa, Florida (PRWEB) April 08, 2015
The ACO Survival Guide was authored by Deborah Leyva, RN, MSHI, BSN, a healthcare and technology thought leader. One of the important provisions in the Affordable Care Act was Section 3022. It gave CMS authority to establish a shared savings program to promote accountability for a population of Medicare beneficiaries in order to provide high-quality and efficient healthcare delivery. The ACO Survival Guide provides not only an overview of these incredibly complex and arcane regulations, but also provides actionable information to support quality reporting, improved infrastructure, and analysis of operational, financial and clinical performance.
Carlos Leyva, CEO of 3Lions Publishing, Inc., says: "The ACO Survival Guide provides our customers with much more than just access to relevant legal authority and commentary. It analyzes the technological challenges faced by ACOs and otherwise helps organizations connect the dots to more effectively navigate the ACO regulatory maze." Section 3022 of the Affordable Care Act and its corresponding regulations embody a convergence between law, policy, and technology. With the release of these new offerings, 3Lions continues to innovate by leveraging its proven compliance methodology across a different subject matter domain.
With the introduction of ACOs and the CMS Innovation Center, it is quite clear that healthcare regulatory reform efforts in this space must continue to evolve. There is widespread consensus that Medicare in its current state is unsustainable. The ACO Survival Guide and its related Accountable Care Organization Training product address the convergence challenge by providing customers with tools that allow them to effectively attack the learning curve.
About 3Lions Publishing, Inc. (3LP)
3LP focuses on publishing online context sensitive content within well-defined subject matter domains, such as healthcare. 3LP helps publishers leverage and monetize their content by providing a publishing platform that matches high-quality content with an SEO-centric set of audience development tools. 3LP is located in the greater Tampa, FL area.