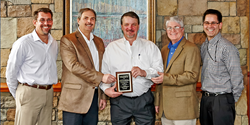 Knoxville, Tennessee (PRWEB) April 08, 2015
Lauren Engineers & Constructors (Lauren) was awarded by Eastman Chemical Company (Eastman), their 2014 Outstanding Performance on a Capital Project Award. During the award ceremony, Eastman Project Manager, Mr. Chris Slaughter, stated, "We had a very short window of opportunity to get this work done and Lauren was ready and able to perform at a very high level in order for us to meet our required schedule." Slaughter further indicated that "Lauren was able to take a smaller sized crew and get more done then we are used to seeing. Your performance was outstanding."
Eastman noted the following project areas of outstanding performance by Lauren:

Safety performance
Efficient and enhanced communication
Daily work planning within an area of the operating plant
Working within an integrated team
Creative workarounds
Schedule, quality, and cost performance
"Receiving this important award from Eastman is a great honor for our project team and organization as a whole," said Jerry Hobbs, Senior Vice President of Projects at Lauren. Mr. Hobbs further stated, "I am very proud of the work Lauren accomplished on this fast-paced challenging project by applying a very collaborative mindset to work with the many stakeholders."
About Lauren:
Lauren is one of the nation's leading mid-sized engineering and construction firms working in partnership with our clients to deliver exceptional project performance. Lauren has worked with many of the Top 25 Chemical firms operating in the United States. Lauren has an exceptionally strong and broad track record of performance excellence for EPC and stand-alone engineering and construction services for the chemical manufacturing industry.
For more information about Lauren, please visit us online at http://www.laurenec.com.
###