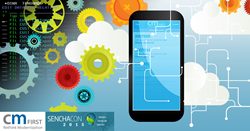 "CM WebClient Hsync shows CM First's commitment to the worldwide Sencha Community," said Mark O'Brien, Business Development Manager.
Austin, TX (PRWEB) April 07, 2015
CM First is proud to announce a new product at the upcoming SenchaCon 2015 Conference, April 7-9, 2015, at the Santa Clara Convention Center in Santa Clara, CA. As a Sencha partner, CM First has developed a mobile-enablement solution that speeds creation of mobile apps from CA Plex, CA 2E, and IBM i legacy applications. At this conference, join CM First experts at a sponsored coffee break and learn about a new mobile capability, CM WebClient Hsync. Using REST-Based web services, CM WebClient Hsync provides a way to gather and store validated form information on the device and synchronize it to the main application later when a connection becomes available. This serves the needs of users who work in environments where cell or Wi-Fi signals either aren't available or are not reliable. With CM WebClient Hsync, the online and offline portions of the CA Plex / CM WebClient based apps can work together seamlessly, in a device-independent architecture that does not require multiple code bases or native app SDK development.
As a Sencha Select Partner, CM First chose SenchaCon as a venue to announce CM WebClient Hsync because the conference attracts attendees who require forward-looking solutions to web and mobile challenges. SenchaCon 2015's theme is 'The Future of Application Development' and CM WebClient Hsync fits that model in providing data access anywhere, on any device. "As CM First deepens its relationship with Sencha, connecting with enterprise customers at SenchaCon is a natural," said Mark O'Brien, Business Development Manager. "CM WebClient Hsync shows CM First's commitment to the worldwide Sencha Community."
"Bringing CM First experts to SenchaCon is a great networking opportunity for CM First," said John Rhodes, CTO. "CM First gets information on the mobility concerns and issues confronting executives and how developers can leverage CM First product offerings and Sencha deployment expertise."
In partnership with Sencha, CM First has led the way in helping companies rapidly convert legacy applications to mobile apps. http://www.cmfirstgroup.com/initiatives/mobile-application-enablement/. Customers employing CM WebClient and Sencha Touch find the combined solution seamless and easy-to-learn allowing quick response to market requirements. Hapimag, one of the many customers employing this solution, ensured travelers the ability to book another vacation on a mobile device while still in transit. http://www.cmfirstgroup.com/wp-content/uploads/2013/10/Hapimag-Customer-Success-Story.pdf
Learn how to solve the challenge of mobile applications operating without persistent internet connections. Connect to applications anywhere with CM WebClient Hsync.
Learn more and register for SenchaCon at: http://www.senchacon.com/
About CM First Group
CM First is a global software and services company with focus on application modernization, custom development of enterprise applications that support high-performing, and agile development teams in three key areas: Application Modernization for IBM Environments, Custom Application Development Architected and Agile, Tools and Technology for Future Development.
Contacts
Americas Headquarters
+1-512-796-4253
infotech(at)cmfirstgroup(dot)com
EMEA Headquarters
+41 41 508 01 05
info(at)cmfirstgroup(dot)com
France
+33 608 504 285
infofrance(at)cmfirstgroup(dot)com