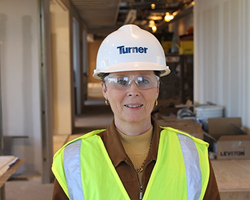 Being a leader in construction safety...is an ongoing journey that demands a company culture unwaveringly committed to sending every worker home safely every day.
New York, NY (PRWEB) April 06, 2015
Turner Construction Company is pleased to announce that the Women Builders Council recognized Cindy DePrater, vice president of Environmental Health and Safety, with their Innovative Safety Award.
Formally presented at the council's Annual Champion Awards Dinner, the award recognizes Ms. DePrater for the many accomplishments of her 37-year career, including her significant contributions to the field of construction safety at Turner as well as in the broader industry through her work with OSHA's Advisory Committee on Construction Safety and Health and other local and national organizations.
"Being a leader in construction safety takes more than programs, procedures, metrics, and initiatives," said Ms. DePrater, adding, "It is an ongoing journey that demands a company culture unwaveringly committed to sending every worker home safely every day."
The Council also recognized five additional Turner women – Kahli Baker, project manager; Rosemary Espinal, superintendent; Wanda Lee, logistics estimator; Kim Neuscheler, project executive; and Terriann Nohilly, senior cost engineer – as Outstanding Women in the Building Industry.
About Turner Construction Company
Turner is a North America-based, international construction services company. Founded in 1902, Turner first made its mark on the industry pioneering the use of steel-reinforced concrete for general building, which enabled the company to deliver safer, stronger, and more efficient buildings to clients. The company continues to embrace emerging technologies and offers an increasingly diverse set of services. With an annual construction volume of $10 billion, Turner is the largest builder in the United States, ranking first in the major market segments of the building construction field, including healthcare, education, sports, commercial, and green building. The firm is a subsidiary of HOCHTIEF, one of the world's leading international construction service providers. For more information please visit http://www.turnerconstruction.com.
About HOCHTIEF
HOCHTIEF is one of the most international construction groups worldwide. The company delivers complex infrastructure projects, in some cases on the basis of concession models. The Group operates in the transportation infrastructure, energy infrastructure and social/urban infrastructure segments as well as in the contract mining business.
With about 53,000 employees and a sales volume of more than EUR 22 billion in FY 2014, HOCHTIEF is represented in all the world's major markets. With its subsidiary Leighton, the Group is market leader in Australia. In the USA, the biggest construction market in the world, HOCHTIEF is the No. 1 general builder via its subsidiary Turner and, with Group company Flatiron, ranks among the most important players in the field of transportation infrastructure construction. Because of its engagement for sustainability, HOCHTIEF has been listed in the Dow Jones Sustainability Indexes since 2006. Further information is available at http://www.hochtief.de/press.