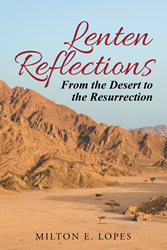 I base my ministry on the belief that deep within the ground of one's very being, God is to be found as a 'divine spark'.
ATLANTA, Georgia (PRWEB) April 05, 2015
Some Christians find themselves attending church yet sensing a nagging emptiness in their spiritual well being. Author Milton Lopes believes this is because they have lost their connection with a loving God. As a spiritual director, Lopes is dedicated to helping men and women who want to become more spiritual and to respond in a deep and sustained way to God's call to holiness.
"I base my ministry on the belief that deep within the ground of one's very being, God is to be found as a 'divine spark,'" Lopes said. "My job is to help men and women to discover this spark."
Through his new book, "Lenten Reflections: From the Desert to the Resurrection," Lopes uses a gentle and positive method to extoll readers to "get right with God." Within the framework of Lent he sets out to help his readers experience a deeper awareness of God's presence and to be more attentive to how he is guiding them. Lopes provides the reader with a clear pathway to discerning, recognizing and understanding God's movement in life, within and outside of the Church. Though focused on Lent, his book provides yearlong guidance.
A retired Professor of Public Policy and Organization Studies, Milton Lopes has over forty years of business and academic experience. He is an active member of the Catholic community in Athens, Georgia.
Lenten Reflections
By Milton Lopes
Available in softcover, hardcover, e-book
Available on Amazon, Barnes & Noble, Google Books and WestBow Press
About the author
Milton Lopes lives in Athens, Georgia and is a longtime Lay Associate of the Cistercian Monastery of the Holy Spirit in Conyers, Georgia. He is also a member of the Knights of Columbus and Spiritual Directors International. He has attended Catholic seminaries in Rhode Island and Maryland and holds an AB from Loyola University in Chicago, an MBA from the University of Dallas, and a PhD (Public Affairs) from Virginia Tech. He is certified in Spiritual Direction from the Mount Carmel Spirituality Centre in Niagara, Ont. Canada and Dream Group Leadership in the Jungian tradition from the Haden Institute in Kanuga, NC. He has taught across the globe, is a U.S. Army veteran, and is married with four children.
# # #
For review copies or interview requests, contact:
Craig Cainkar
(317) 602-7137
ccainkar(at)bohlsengroup(dot)com