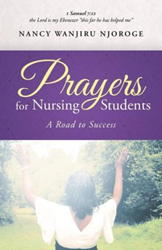 With prayer, patience, and determination you can achieve your purpose in life.
Harrisonburg, VA (PRWEB) April 02, 2015
CrossBooks is pleased to announce the nationwide release of Prayers for Nursing Students: A Road to Success by Nancy Wanjiru Njoroge. A native of Kenya, the author recounts how offering true prayers from her heart led God to fulfill her 20-year dream of becoming a nurse in the United States. Blending in accounts of people in the Bible whose prayers God answered, Nancy's writing teaches readers—especially aspiring nurses—that with prayer, patience, and determination, they can accomplish their life's purpose.
Njoroge's story begins in Kenya, where her dream of becoming a nurse was delayed by high school grades that were too low, few nursing colleges to choose from in her part of the country, plus a lack of available funds for tuition. In time, she committed her dream to God, learning the power and discipline of prayer that led to a spirit of faithfully waiting upon the Lord. Her prayer life continues to grow now living in America as she moves forward in a nursing career. Beyond professional insights for its target audience, Prayers for Nursing Students gives hope to anyone seeking inspiration in the face of struggle. These prayer lessons inspire a new way of thinking.
"God does not forget the desires of our heart," said Njoroge. "He will come at the right time and fulfill His promises. I believe God will use one or many of these prayers to help you accomplish your dreams. With prayer, patience, and determination you can achieve your purpose in life. You have the potential. Do not quit!"
CrossBooks publisher Paul Mikos added, "We've already seen a strong response from readers to Nancy's passionate writing in Prayers for Nursing Students. I am confident her special book will bless current and future nurses dedicated to this noble profession."
Prayers for Nursing Students: A Road to Success is now available online through CrossBooks on LifeWay.com, as well as Amazon, Barnes & Noble, and other major retailers.
Nancy Wanjiru Njoroge was born in Kenya and from a young age desired to be a nurse. She moved to the United States with her husband and two children and became a registered nurse. Nancy obtained a Bachelor of Science degree in nursing and lives with her family in Harrisonburg, Virginia. She believes in prayers that can move mountains.
An imprint of B&H Publishing Group, CrossBooks offers a unique blend of traditional and self publishing. It serves a variety of Christian writers, from established authors to Christian leaders and first-time authors. As a ministry of LifeWay Christian Resources, CrossBooks is committed to unwavering principles of excellence and Christian faith. For additional information, please visit http://www.crossbooks.com.