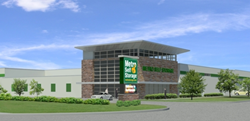 Lake Forest, Illinois (PRWEB) April 03, 2015
Metro Storage LLC today announced the acquisition of a former warehouse in Northbrook, Illinois for conversion to a state-of-the-art Metro Self Storage® facility. Located at 2121 Shermer Road in the northern Chicago suburb of Northbrook, the building will be developed into a state-of-the-art, two story, 100% climate controlled self storage facility offering 67,000 RSF of storage.
Interior demolition and conversion of the building is scheduled to begin in May. As part of the conversion, Metro will create a second floor mezzanine within the building. The new facility will feature multiple elevators and loading points, state of the art security and a large, modern business office.
"There is high demand for quality self storage in the Chicago area." said Matt Nagel, Chairman of Metro Storage LLC, "This property is located in excellent location to meet that demand."
The new 660 unit store is scheduled to open in the fall of 2015 and will be the 18th Metro Self Storage® store in the Chicago area.
About Metro Storage LLC
Metro Storage LLC is a privately owned, fully integrated, international self-storage operating company specializing in the development, construction, acquisition, and management of self-storage facilities in the USA and Brazil. Metro operates under the trademark Metro Self Storage in the US, being one of the top 10 largest owner/operators of self-storage facilities in the United States with over 100 stores covering 11 states. Metro operates in Brazil under the trade name MetroFit which is one of the fastest growing self-storage companies in Brazil. More information about the firm is available at http://www.metrostoragecorporate.com.