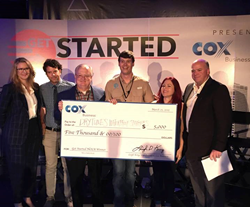 "Drytunes is an innovative outdoors product, naturally it was invented by Louisiana sportsmen. They are poised for big things in the future and excited to have them part of the diverse New Orleans entrepreneur ecosystem" -Chris Schultz, Founder of Voodoo
New Orleans, LA (PRWEB) April 06, 2015
Drytunes is the world's first totally waterproof, high-fidelity wireless speaker with safe and secure internal dry storage. The speaker is designed to be played closed with more than 400 cubic inches of internal dry storage to keep phones, cameras, tablets, wallets, keys, and other valuables completely dry while enjoying music in any environment. It floats with the lid (speaker) facing up or down, and can be controlled wirelessly by any Bluetooth-enabled device. It is 100% waterproof, submergible and dust-proof (rated IP-67).
Drytunes is extremely rugged and perfect for kayaking, paddle-boarding, the beach, pool, fishing, camping, boating, tubing, tailgating, snorkeling, or any outdoor activity. The company's motto is "Wherever you play, we play!"
Drytunes is designed and assembled by hand in Mandeville, Louisiana.
Drytunes Waterproof Speakers was selected as the winner of the Cox Business and Inc. Magazine's "Get Started New Orleans" business pitch competition, an event which took place on the night of March, 25th 2015 at the Chicory Building in downtown New Orleans. The contest was designed to showcase local innovative talent in the New Orleans area in a "Shark Tank" like atmosphere, which consisted of 5 companies competing for a grand prize package of $10,000.
There were over 40 companies that submitted to compete and five finalists were chosen to showcase their products to four judges. The judges included Kris Frieswick, Senior Editor of Inc.com, Lauren Thom, Founder and CEO of Fleurty Girl, Steve Rowley, Senior VP of Cox Business, and Chris Schultz, founder of Voodoo Ventures.
"Get Started NOLA is a way for Cox Business and our partners to help promote innovative talent in our local business community," said Steve Rowley, senior vice president of Cox Business. "Not only will contestants be eligible to win a grand prize, but our panel of experts will provide valuable advice and success tips that will assist them in launching their business."
The runner up was AxoSim Technologies, a "nerve-on-a-chip" technology company designing safer prescription drug development.
Other participants included: Earth Prime, a practically automatic recirculating hydroponic system for home-growing fresh produce; myMix Nutrition, an e-commerce platform that allows customers to fully customize ready-to-mix nutritional supplements, and Spike Me Not, a life-saving drink monitor that connects to your smartphone.
Drytunes Website: http://www.drytunes.com
Cox "Get Started NOLA" Website: http://www.getstartednola.com
New Orleans Entrepreneur Week: http://www.noew.org
Dropbox Link to "Get Started NOLA" event pics: http://bit.ly/1GJ0mRw
Dropbox Link to Drytunes product pics: http://bit.ly/1BIvNF4