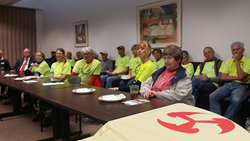 Loving others with the comfort of Christ
Venice, Florida (PRWEB) April 07, 2015
Venice Cares is a local non-profit volunteer organization, supported by Tri County Air Conditioning and Heating, and led by Jim Foubister and his wife Chris, whose mission is: "Loving others with the comfort of Christ". Though it is a relatively new organization, not even a year old, Venice Cares is already making a difference in Sarasota, Manatee and Charlotte Counties and across the globe by providing support to over 50 non-profits, orphanages and missionaries in various ways.
Venice Cares provides, at no charge, expertise in volunteer projects for cities, counties, schools and non-profits. They are already well on their way to achieving this goal, having garnered the support of area school principals, educators and government leaders. Their app "VeniceCares" (available in Google Play and the Apple Store) allows individuals who are interested in volunteering to sign up for the types of projects that interest them. Not only is this a great opportunity for students to earn their community service hours, but the app also provides a list of crisis lines for students and individuals who may need them.
Venice Cares works by the idea of volunteer sharing. If all area organizations supply their volunteer list, Venice Cares will send all volunteers email updates about volunteer opportunities that may interest them. In exchange, each time an organization is in need of volunteers, an email will go out to all area volunteers in the Venice Cares database. This gives volunteers more opportunities to do what they love most and also gives organizations more volunteers to ask for assistance when it is needed. Talk about a win-win.
Since their inception in May 2014, Venice Cares has been an influential part of over 27 events including:

Marriage Works in Manatee County
Joe Gibbs (City Commit) Breakfast in Sarasota County
Make a Difference Day in the City of Venice (over 450 volunteers)
Relay for Life Prayer Tent and Luminaire Sponsor in Venice
Christmas Eve Turkey Dinner For Venice Area Needy (120 meals served)
Mayors Luncheon for Pastors to Assist the Needs of the City in Venice
Coming May 9, 2015: Stamp Out Hunger Postal Food Drive
The next event that they have coming up on April 22, 2015 is called "Empowering Parents and Teens" presented by Dr. Christopher Cortman and Dr. Harold Shinitzky of The Social Black Belt. This event is will shed some light on what to expect in high school, how to make good decisions and how to establish healthy, lifelong goals. This event is no-charge and is open to all middle and high school parents and students. For more information on when, where and what to expect, please follow this link: Empowering Parents and Teens
Overall, Venice Cares is a non-profit that cares for its community and shows it. Interested in volunteering or need volunteers? Don't hesitate to sign up or contact Jim Foubister at (941) 223-1771 for more information.