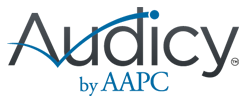 This technology will redefine how organizations conduct documentation and coding reviews.
Salt Lake City, Utah (PRWEB) April 02, 2015
AAPC (http://www.aapc.com), the leader in advancing the business of healthcare, introduces Audicy, a new audit management software solution for medical practices and payer organizations. According to Dan Schwebach, vice president of audit services for AAPC, "This technology will redefine how organizations conduct documentation and coding reviews. Chart audits are a critical part of compliance, but many organizations struggle with the costs and administrative burden of managing these activities."
Audicy is an intelligent, an all-in-one solution that streamlines the audit process through innovative workflow management features. This end-to-end tool allows users to easily create, manage, track and report on hundreds of audit projects simultaneously.
Unlike existing audit management software, Audicy offers a highly versatile tool that audits the entire range of codes, including E/M services, CPT, ICD, HCPCS, and ICD10 codes. Audicy also lets auditors create custom audit templates to evaluate additional areas of risk. For example, auditors can now create templates built around documentation requirements for surgical, office and/or diagnostic procedures.
Beverly Welshans, director of audit and education at University of Buffalo Physicians Group, indicated "Audicy has been extremely helpful. Not only is the system easy to use which has increased the speed of our auditors, but the software has made a notable improvement in the quality and accuracy of our audits."
Audicy also introduces new feedback and training tools designed to improve auditor efficiency and accuracy. Referred to as "Audit Intelligence", this new methodology relies upon sophisticated evaluation formulas and competency-based assessments to drive results. After Audicy evaluates physician performance against 16 core coding and documentation competencies, auditors can share results and provide highly targeted feedback to providers. Additionally, each competency links directly to online training modules that enhance the focus and efficacy of post-audit education for providers.
For more information on Audicy now, or to schedule a demo, visit http://www.audicy.net, call 855-254-1103 or email audicy(at)aapc(dot)com.
About AAPC:
AAPC (http://www.aapc.com) is the nation's largest training and credentialing association for the business of healthcare, with nearly 141,000 members of which 100,000 are certified. AAPC offers the industry-leading certifications with more than 20 specialty-specific coding credentials. AAPC also provides a wide variety of continuing education, resources and networking opportunities. AAPC is expanding into the business side of healthcare. AAPC solutions include software and educational services for auditing, coding, compliance along with consulting; auditing services and an array of healthcare data files to meet any organization's needs.