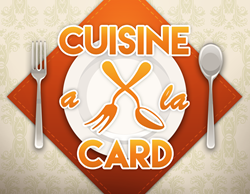 It's a great way to spend family time!
(PRWEB) April 10, 2015
It's time to get cooking.
A new cooking competition card game is launching today, April 10 2015, on Kickstarter.
InMotion is launching their first Kickstarter campaign to bring the world of cooking competition to the family dining room. Cuisine a la Card aspires to be amongst the best family board games while also providing deeply competitive and strategic game play familiar to board game aficionados. The campaign will launch with fully completed art and design; a copy of the game can be had for a $30 pledge. Cuisine a la Card was publicly play tested at last month's SXSW Gaming Expo in Austin, Texas.
About the Game:
Cuisine a la Card, inspired by TV cooking games, is a competitive deck building card game for 2-4 players. Play as chefs, crafting the finest meals out of the ingredients strategically purchased from the Marketplace, and submitting those meals to discerning and capricious judges for Medals. In this cutthroat world of culinary competition a simple dash of salt or just the right amount of spice may just be what you need to tip the balance in your favor and win the game.
About InMotion Software:
InMotion Software was founded in 2008 and focused on mobile gaming with several top 100 titles such as "I Dig It", "Dungeon Defense", and "Catacombs". Cuisine A La Card is InMotion's first foray out of the digital world and into physical gaming.
Number of Players: 2-4
Time Required: 20-30 min
Recommended Ages: 13+
Kickstarter Page: https://www.kickstarter.com/projects/975208659/2091088250?token=6ec55858