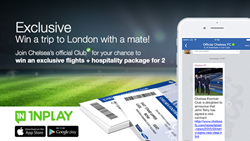 We wanted to create the digital form of tribal belonging that fans embrace – being able to chat with friends, to pass on news and rumours, and to make real-life friends.
London (PRWEB) April 03, 2015
INPLAY is a new kind of digital venue for soccer fans to meet up for private or public chats. The content-rich app, now available on iOS and Android, provides fans with unique features to spice up the conversation, like multimedia tools and trending content.
Fans can now follow the Chelsea F.C. via the 'Official Chelsea FC' Club on INPLAY. From the INPLAY app, users can receive the latest news, videos, offers and more, and seamlessly share them with all of their friends and fellow CFC fans. Chelsea F.C. joins fabulous full-back Cesar Azpilicueta in launching their own official Fan Club on the app.
And if fans join Chelsea's official Club on INPLAY now, they have a chance to win an amazing hospitality packages for two to watch Chelsea F.C. in London!
In order to have a chance of winning this fantastic prize, all users need to do is to follow three easy steps:
(1) Download the INPLAY app from the App Store or Google Play.
(2) Invite one friend
(3) Join the 'Official Chelsea F.C.' Fan Club.
The promotion will run between April 2-30, 2015.
INPLAY offers unique features like 'Hotwire,' which aggregates the latest trending content for fans to enjoy, and then 'passes' into their Chats and Fan Clubs to continue the conversation. That means that unlike other social platforms which are based on a public profile or timeline, with INPLAY they can engage in true and natural conversations with friends and others and be as 'off the record' as they want.
"As true football fans we were frustrated that this huge and exciting community is being underserved when it comes to mobile tools to connect them in a material way," said INPLAY CEO Meni Michaeli. "We wanted to create the digital form of tribal belonging that fans embrace – being able to chat with friends, to pass on news and rumours, and to make real-life friends. We have been delighted by the response from fans and clubs to our vision and cannot wait to get INPLAY into the hands of fans around the world."