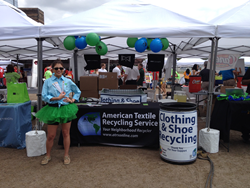 "The message is clear. Getting into the act of green this year for Earth Day 2015 will be lots of fun!"
Houston, TX (PRWEB) April 06, 2015
As official Earth Day 2015 celebrations kick off this month, American Textile Recycling Service (ATRS) takes the pledge to create 2 billion acts of green by sponsoring Clothing & Shoe Recycling at community events nationwide. ATRS volunteers and green fairies will be on hand at 16 locations beginning on April 11th to ensure that unwanted textiles are diverted from the municipal landfill.
According to the EPA, 35.4 Billion pounds of textile solid waste is projected to occupy landfills by 2019, based on textile recycling trends of the average American from 1999-2009. Currently only 15% of clothing, shoes, soft toys and all other household textiles are being reused, recycled and repurposed by consumers. That leaves 85% of unwanted, outgrown and discarded textiles that must be rescued from the solid waste stream.
By participating in official Earth Day 2015 events in 14 cities across the country, ATRS and its team of dedicated community advocates aim to raise awareness about the importance of textile recycling and provide easy, convenient solutions for drop off at centrally located neighborhood events. The company will sponsor green-minded games and DIY crafting tables to encourage family friendly fun and demonstrate the significant impact recycling has on reducing the carbon footprint in our neighborhoods.
"This is our largest Earth Day celebration ever," says Debra Stevenson, Chief Marketing Officer for ATRS. "Our popular upcycled quilting table is back again this year along with plantable wildflower bracelets and a new Recycler Toss Game where folks can compete for prizes. The message is clear. Getting into the act of green this year will be lots of fun!"
To learn more about how to incorporate textile recycling into the 2 Billion Act of Green for Earth Day 2015, visit the ATRS Earth Day Page and find an ATRS sponsored event or drop-off location near you.
American Textile Recycling Service (ATRS) is the nation's fastest growing textile recycler. Its socially responsible business model provides free textile recycling solutions for the public, job stimulation worldwide and much-needed funding for worthy local charities. Easy, convenient ATRS Recyclers are available throughout Phoenix, Scottsdale, Tempe and Tucson AZ, San Antonio, Austin, Dallas, Houston, Galveston and Beaumont TX, Nashville, Florida, Michigan, Tennessee, Atlanta, Oklahoma, Colorado and Southern California. For press inquires contact pr (at) atrsonline (dot)com.