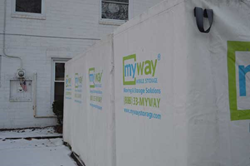 Pittsburgh, PA (PRWEB) April 03, 2015
MyWay Mobile Storage is pleased to support the Pennsylvania American Legion Housing for Homeless Veterans Corporation in their efforts to provide transitional housing for veterans.
In 1988, Pennsylvania American Legion Housing for Homeless Veterans Corporation purchased four town houses on Cypress Street, Moon Township in Allegheny County. The concept is simple — provide a safe, clean, stable environment for the participant while he or she completes schooling, job training and becomes adequately self-sufficient to seek permanent housing in the surrounding community.
The Cypress Street Project quickly received national attention and has served as a basis for many similar projects in the Pittsburgh area and throughout the country.
MyWay Mobile Storage provided units to store furniture while the Cypress Street townhomes were being renovated. "To tackle a job like this, you need to be able to empty the living areas. With the weather we've been having, you couldn't just leave everything outside," said Ed Sickmund MyWay market owner. "MyWay was happy to be able to help. I always have a soft spot for veterans groups."
The remodeling and upkeep of these homes is the responsibility of the Corporation. "We renovated 4 units that house 10 Veterans who need our support to get their lives back on track," said Christina Lonigro, a Housing for Homeless Veterans Corporation 2014 honoree. The program is designed to enhance the quality of life for the veteran. The goal is to become productive tax paying citizens by securing a good decent job.
"We have an 85% success rate with more than 400 veterans going through our program over the 26 years that we have been in existence," Lonigro continued, "I absolutely welcome the opportunity to talk with anyone interested in learning more about what we do, to further discuss our mission and vision for this worthwhile program."
Pennsylvania American Legion: The Legion is the country's largest veteran's service organization. For more than nine decades the Pennsylvania American Legion existed to represent the people in uniform and continues to do so with dignity and honor. The Housing for Homeless Veterans Corporation is one of many programs offered by the Pennsylvania American Legion. http://pa-legion.com/About
MyWay Mobile Storage:
MyWay Mobile Storage is the leading provider of moving and storage solutions and located in a spacious 27,500 square foot facility in West Mifflin, PA, to better service their customers in the metropolitan Pittsburgh area. They provide quick and easy do it yourself moving containers that can be delivered right to your door and stored in their climate controlled, secure storage facilities. To learn more, visit http://www.mywaystorage.com or call 888-336-9929 to speak with a Moving & Storage Consultant.