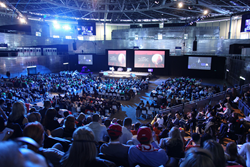 You are the champion for the legacy that lives in the heart of your people.
South Jordan, UT (PRWEB) April 06, 2015
Thousands took over the Madrid Arena for the MonaVie® (http://www.monavie.com) European Convention that took place in Madrid, Spain, on March 20-22, 2015. The event themed "Momentum" was a grand celebration of the company's 10-year anniversary and also featured renowned motivational speaker Darren Hardy, the launch of new promotions, and an introduction to the main concepts surrounding MonaVie's mynt™ (http://www.GOmynt.com) initiative.
In celebration of 10 years in the direct selling industry, special commemorative MonaVie 10-year anniversary bottles were sold to raise funds for The MORE Project (http://themoreproject.org/). In addition, MonaVie distributors demonstrated the very essence of the company—a culture of generosity and charity—by donating to The MORE Project and sponsoring 73 children at the MORE Project.
Helping others was one of the main messages presented by the leaders at the event. World renowned motivational speaker, author, business leader and publisher of Success Magazine Darren Hardy provided an insightful keynote speech about the need for a new type of leader to emerge.
"21st century leadership is not about accomplishing your dreams; it is about helping others accomplish theirs," Hardy said to the crowd. "You are the champion for the legacy that lives in the heart of your people."
The mynt Purpose and Concepts Introduced in Europe
In addition to leadership skill training, the mynt purpose and concepts were introduced. The mynt model is growing at an incredible rate in the U.S. and Canada. In addition to North America, MonaVie has also successfully launched mynt in Brazil and will pre-launch mynt in Japan this April. Distributors at the MonaVie Europe event were shown the power of doing business the mynt way, and how the mynt concepts are fundamental to building a long-term, sustainable business.
Created with the purpose of getting back to the true roots of direct selling, mynt is focused on creating high-quality, health and fitness products that are competitively priced. With this model, mynt is inclusive to anyone who is looking to live life on purpose. Some might want to join to just consume the products, some may want to get healthy and make an extra $1,000 a month and some are ready to use their entrepreneurial skills to create a successful home-based business. Whatever the reason a person wants to join, this type of flexible opportunity allows the individual to choose how they want to participate in the brand.
Amazing success is happening everywhere in MonaVie. This event was a shining example of what MonaVie has accomplished in the past 10 years and the exciting future for the company.
The next MonaVie Europe Convention event will take place in Prague, Czech Republic, in April 2016.
About MonaVie
Since 2005, MonaVie® has developed premium products dedicated to promoting health and wellness worldwide. MonaVie products are marketed and sold in more than 30 countries and address four key areas necessary for optimal health—Nutrition, Weight, Energy and Stress. The products empower people to live healthier, more meaningful lives. That greater meaning is revealed through the company's heartfelt commitment to doing good in the world and by helping children and families in need through the MORE Project, a nongovernmental, nonprofit organization that works with those facing extreme poverty in the favelas of Rio de Janeiro, Brazil. For more information, visit http://www.monavie.com.
About mynt
mynt™ is a brand that builds communities through its health and fitness products, an improved business opportunity and personal growth objectives, all of which empowers people to make a difference in the world. Fueled by its vision to help others achieve their ambitions and live life on purpose, mynt enables anyone to take part in the brand and works with its community members to provide competitive products, strong rewards and recognition. mynt also offers a versatile business opportunity that compensates people in a variety of ways for their time and financial investment. It's the type of opportunity that can produce economic empowerment so people can put food on the table, pay bills or even enjoy a fulfilling lifestyle. Learn more at http://www.GOmynt.com.