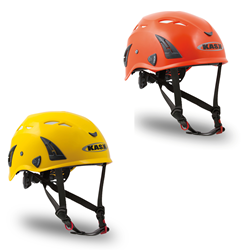 West Chester, PA (PRWEB) April 04, 2015
Climbers and ground personnel can now be safe, comfortable and stylish. American Arborist Supplies has added KASK Super-Plasma, protective helmets to their inventory of professional arborist supplies.
Italian-made KASK hi-tech helmets are the protection choice of arborists around the world because they are compact, light weight, comfortable and affordable. The helmet's outer shell is made of High Density ABS plastic and is designed to withstand impact from sides or above. Ten vents with aluminum grills keep out dirt and debris while providing cooling and ventilation.
KASK helmets are designed for both ground and work-at-height applications. They have a chin strap to keep the helmet firmly seated on the head and adapters for mounting ear muffs. Each weighs less than a pound, is priced at less than $150.
Visit http://www.arborist.com for more information or to purchase KASK helmets. You can also call 800-441-8381 or stop at American Arborist Supplies' store at 882 S. Matlack Street, West Chester, PA 19382.