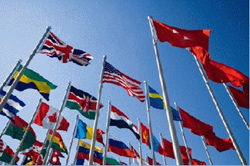 The opportunities are virtually endless . . . teaching overseas is very attractive for any teacher who has a love of travel and adventure.
Hynannis, MA (PRWEB) April 07, 2015
In a time when magazines and newspapers are struggling to maintain their advertisers and their audience, one publication is bucking that trend. The International Educator, a quarterly newspaper covering news, events and developments in the field of international education, has been experiencing solid growth in both areas, and according to TIE CEO, Forrest Broman, the April issue is the publication's largest issue yet.
Perhaps there is no more obvious barometer of a publications' health then the number of advertisers that grace its pages. This directly translates into the thickness of a publication, and judging by the most recent April issue of The International Educator, or TIE, as it is known, the paper has never been healthier or heavier.
The April 2015 issue has 364 international school advertisers, up 7% versus last April's issue, which represents an all time high in the publication's 29-year history. Subscriber growth has been equally robust with a 7% increase for the first quarter of 2015.
"We have had so many new school advertisers come onboard for the April issue that we had to turn some away," said Julie Thrasher, Director of School Advertising for TIE. "We are at the point where we have to rethink the overall size of this publication because at 100 pages we want to balance the ratio of edit to advertising, and growing too big comes with its own challenges," explains Thrasher. This is an enviable position to be in considering other print publications in recent years have become so thin that they are mere shadows of their former tomes.
Much of the growth in school advertising mirrors the growth of the international school market, overall. According to ISC Research, a U.K.-based organization that tracks the international schools market, 65 English-medium international schools opened up in March alone and 749 new schools opened their doors in the past year. "Our goal is to get the word out to as many teachers as possible about the thousands of international schools located around the world. The opportunities for professional and personal growth are tremendous," says Forrest Broman, President and founder of TIE.
The international school market serves over 4 million K-12 students from virtually every country in the world. TIE seeks to match teachers with these international schools where they are needed to teach every subject and grade level in English at private schools around the world. "The opportunities are virtually endless," says Broman. "Many teachers are able to save money because these positions often include free housing, tax-free salaries, free round-trip air transportation to and from the host country, health insurance and other benefits that make these packages very attractive for any teacher who has a love of travel and adventure," explains Broman.
The International Educator (TIE), based in Hyannis, MA, is a non-profit organization dedicated to developing links among teachers and international schools worldwide. In publication for over 25 years, TIE is a quarterly newspaper featuring the latest in international school news and developments for K-12 educators around the world.