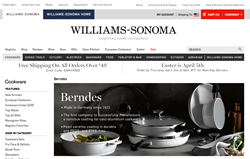 Lima, Ohio (PRWEB) April 06, 2015
Today Williams-Sonoma.com launched Berndes Professional line of Cookware, Vario Click Pearl on their website as part of their European Cookware category. Crafted by Berndes of Germany, Vario Click Pearl Ceramic Induction Cookware is part of the professionally constructed cookware to engage the ambitious chef to go above and beyond an average cooking experience.
Vario Click Pearl Ceramic Induction cookware is exceptionally easy to clean and excels for low-fat cooking, thanks to an eco-friendly, state-of-the-art ceramic finish. This ceramic cookware is induction compatible, with a stainless-steel diffuser for ideal heat distribution.
The premium induction diffuser bottom is sprayed on with a patented sonic speed process that ensures the complete merging of the magnetic steel with the aluminum base. The inside cooking surface and exterior is coated in an extreme scratch-proof, heat-resistant, stain-free Pearl white ceramic coating... pure beauty that can go from the stove to the table.
Pearl ceramic coating is PFOA, PTFE and PFOS FREE and contains no Cadmium. The molded side handles and the removable pan handle ensure perfect oven use, up to 750°F without handles and lids. The sleek Black removable cookware handle makes storing cookware easier and saves cupboard space. Tempered glass lids feature stainless steel handle and rim.
Sophisticated and professional technology for your kitchen, Vario Click Pearl Ceramic Induction Cookware is backed by a Limited Lifetime Household Warranty and is made in Germany.
Williams-Sonoma offers an exclusive 9 and 7 piece cookware set as well as individual pieces. For more information go to:Williams-sonoma.com.
About Berndes
Berndes has developed produced and distributed cookware since 1921 and is the largest pan manufacturer in Germany, as well as the world-marketing leader in nonstick coating cookware made of cast aluminum. The high quality, award-winning range made of cast aluminum, spun aluminum and stainless steel is exported worldwide and has been distributed through qualified channels for decades.
With a marketing strategy that focuses on people with an affinity for cooking and appeals to the emotions, Berndes is set for success. As has always been the case, production is carried out at the company headquarters in Arnsberg, Germany. These processes only use materials that do not affect the environment, resources or health. The in-house test laboratory conducts continual quality controls accompanying production. Neutral test institutions both attest the company's high quality standards repeatedly domestically and abroad.