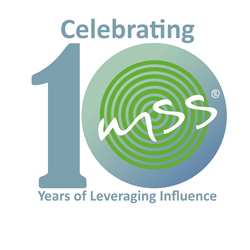 This is an exciting and significant landmark in MSS' evolution.
Scottsdale, Arizona (PRWEB) April 09, 2015
Ten years ago, Kevin Moran founded a world leading, market research company designed to reinvent the dynamic of researching the consumer purchase process. Kevin's inspiration came from a simple request he made when ordering a drink while out with friends. Upon ordering a Vodka & Tonic, the bartender recommended it be made with Grey Goose vodka. The thought of which brand to order never entered Kevin's mind until that moment. This prompted the question "why?" Why would the bartender recommend that particular brand? What was his motivation?
These questions formed the foundation of MSS. Kevin formed a team and began surveying bartenders on which spirits brands they recommended and more importantly, what made them recommend one brand more so than another. The past ten years have been spent adding additional categories for research. The sales professional recommending cell phones, TVs, appliances, tires, oil and more – in fact, 17 different categories in all – and continuing to grow.
In addition to the key Influencer Impact Tracking studies, MSS also offers many innovative research products; including, the MSS Brand Power Index, Key Derived Recommendation Drivers Analysis, Sales Driver Optimization Model, Budget Allocation Model and more. MSS' innovative techniques have made market research more insightful, innovative and inspirational at the same time as making it more cost effective.
Testament to MSS' impact on the industry is the impressive list of clients reliant upon MSS' tracking studies; top 100 brands such as Anheuser Busch InBev, Bacardi, Chevron, General Electric, Michelin, LG Electronics, Microsoft, Proctor & Gamble, Samsung, Shell, Sony, Whirlpool and many more. Over 300 brands rely on MSS to develop strategies on how to get Influencers to recommend their brand to consumers.
MSS President Kevin Moran said of the ten year achievement: "This is an exciting and significant landmark in MSS' evolution. We've never been afraid to experiment and have managed to innovate again and again. This fantastic achievement marks the hard work and dedication of a very talented team of research strategists and some hugely supportive clients and I thank them all. Together, we have grown MSS from an innovative idea ten years ago, into a company transforming the way brands leverage market research. We look forward to many more years of success."
MSS offers affordable, multi-sponsored, 'near custom' market research to help marketers develop tools to optimize their brand's direct to the trade marketing and sales programming to drive brand recommendations at the point of purchase. "Over the years, we have quantified and validated the importance of the Influencer," said Moran. "His critical role in driving sales to consumers at the point of purchase cannot be ignored."
MSS' staff is composed of highly trained, research professionals with a vast array of expertise on a global basis. MSS performs at the very highest standards of research protocol and provides a wealth of actionable information about Influencers in 19 categories from beverages to passenger car lubricants in nearly 50 countries, at a cost-effective price. For more information, about MSS, please visit us at http://mssmulti.com or call 480-595-4754 ext. 1227.
Contact: Scott Snow
Phone: (480) 595-4754 ext. 1227
Email: ssnow(at)mssmulti(dot)com
# # #