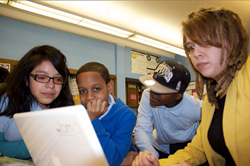 "Programs such as this that have been tested in challenging environments and produced significant results should be replicated in other struggling schools." - NYC Council Member, Education Committee Chair Daniel Dromm
New York, NY (PRWEB) April 07, 2015
New York City Council Member Daniel Dromm, representing District 25 and Chair of the Education Committee, today expressed support for the expansion of an after-school test prep program using media literacy principles to teach Common Core standards. The program, offered by the nonprofit organization The LAMP (Learning About Multimedia Project), was originally offered at a low-performing elementary school in Morningside Heights in the spring of 2014.
"I met personally with The LAMP and was impressed by their work and achievements, and for their programs that successfully harness young people's enthusiasm for media and technology," said Council Member Dromm. "Programs such as this that have been tested in challenging environments and produced significant results should be replicated in other struggling schools."
LAMP program facilitators designed and implemented the program, which met weekly for two hours over the course of twelve weeks with 4th and 5th grade students at The Magnet School for Technology and Communications. According to standardized testing scores reported to Principal Dr. Natalia Garcia, English Language Arts scores for participating students increased by 58%, and Math scores for participating students increased by 78%. The program also achieved a 92% attendance rate, a school record for voluntary attendance at an after-school program. Dr. Garcia has credited The LAMP's program design and work with the school's test prep instructors as key to the increase in scores and student participation.
"Having the support of Council Member Dromm is incredibly meaningful for The LAMP as we seek to expand this program which achieved such dramatic results," said D.C. Vito, Executive Director of The LAMP. "As a former educator himself, he understands the complexities of teaching, and as Chair of the City Council Education Committee he is well-attuned to the needs of students and teachers. We are eager to move forward with bringing this program to more schools citywide."
More information about the program is available here.
About The LAMP: The LAMP provides hands-on learning opportunities to at-risk and underserved populations so they can live, learn and thrive in the 21st century. Through partnerships with dozens of schools and nonprofit organizations, The LAMP teaches media literacy, digital citizenship, critical thinking and basic production skills for a variety of media forms. The LAMP also offers professional development workshops for educators as well as family programming, in addition to free online tools such as the MediaBreaker and LAMPlit resource guides. More information at thelamp.org.