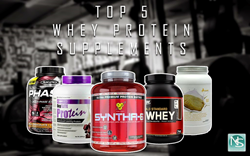 Whey protein is popular among athletes, bodybuilders, fitness models, as well as people looking to improve their performance in the gym.
West New York, New Jersey (PRWEB) April 07, 2015
Whey protein contains a wide range of essential amino acids, which are absorbed quickly. However not all proteins are created equal. Some forms of protein, such as whey protein isolates might be better for people with sensitive digestion systems.
Whey Protein is one of the best studied supplements in the world. There are many brands and formulas of Whey Protein and typically comes in two major forms which are listed below.
Whey Concentrates which typically have a low (but still significant) level of fat and cholesterol but, in general, compared to the other forms of whey protein, have higher levels of bioactive compounds, and carbohydrates in the form of lactose they are 29%–89% protein by weight.
Whey Isolates are processed to remove the fat, and lactose, but are usually lower in bio activated compounds as well they are 90%+ protein by weight. Isoaltes are ultimately a purer formula and optimal for individuals who want to use whey protein for weightloss. Like whey protein concentrates, whey protein isolates are mild to slightly milky in taste.
Whey protein is absorbed and utilized very quickly in the body. Whey protein is composed of amino acids which are the building blocks of muscle fibers. It also increases the anabolic hormones that stimulate muscle growth and contains leucine, which is known to trigger muscle protein synthesis. Whey protein has been shown to be particularly effective at increasing muscle growth when consumed right before, after or during a workout, but muscle protein synthesis is usually maximized in the time period after training. The window is roughly up to 45 minuets after physical activity.
Aside from building muscle growth and strength, whey protein can also help with weight loss. Taking whey increases protein intake and has major benefits for weight loss. Protein can boost metabolism by 80 to 100 calories per day, and makes individuals that intake protein less hungry and eat less calories per day. Studies have shown that replacing other sources of calories with whey protein and combined with weight lifting can cause weight loss while increasing lean muscle mass. If you're trying to lose weight, then consumption of a whey protein formula will help with both, losing weight and building growth and strength for your muscles.
Over all, whey protein is both beneficial for muscle growth and health, from amino acids to rebuilding and maintaining muscle strength. However consuming too can cause digestive issues such as nausea, flatulence, diarrhea, pain and cramping. A commonly recommended dosage is 1-2 scoops, which is around 25-50 grams, per serving and usually taken after a workout. It is highly recommended to follow the serving instruction on the packaging. If regular whey protein concentrate is too harsh, then Whey isolate may be more appropriate.
The top 3 Best Whey Protein Supplements From NutriSaver.com are; Muscle Tech Phase 8 , Optimum Nutrition 100% Gold Standard, and B.S.N. Syntha-6, USP Labs Oxyelite Protein and Metabolic Nutrition Protizyme.
At the end of the day,whey protein is an exceptionally healthy way to add more protein to any diet. It is a quality protein source that is absorbed and utilized efficiently by the human body. This is particularly important for athletes, bodybuilders, or individuals who need to gain muscle mass and strength, while losing weight at the same time. When it comes to muscle gain and fat loss, protein is the king of nutrients. For More information on this topic please refer to our blog post What is Whey Protein.