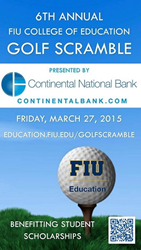 "The support of Continental National Bank has helped make this possible and I look forward to our continued partnership, which will help benefit so many deserving students who are looking for ways to help pay for their education."
Miami, FL (PRWEB) April 03, 2015
Continental National Bank, Miami's premier community source for financial services for small businesses and entrepreneurs, joined Florida International University's College of Education for its 6th Annual Golf Scramble on Friday, March 27 at the Miccosukee Golf and Country Club.
This is the second year that Continental National Bank served as title sponsor of the Golf Scramble, whose proceeds go to a faculty endowment that supports a scholarship for deserving students who represent the future of public education in South Florida. This year, thanks to the generosity of the golfers, the Bank, and other sponsors, the endowment doubled to $50,000, awarding twice as many scholarships as anticipated.
"We are happy that FIU's College of Education once again invited us to participate in their annual Golf Scramble," said Guillermo Diaz-Rousselot, President and CEO of Continental National Bank. "Not only is it a fun and entertaining event, but it provides benefits to College of Education students who are well deserving of their scholarships. The Bank is dedicated to the development of future leaders in the South Florida community, of whom no one is more deserving than our future teachers. We hope that our participation in this event will help further the success of these students, and in turn, our community."
"We look forward to announcing our first scholarship recipients in the fall," said Delia C. Garcia, Dean of FIU's College of Education. "The support of Continental National Bank has helped make this possible and I look forward to our continued partnership, which will help benefit so many deserving students who are looking for ways to help pay for their education."
Joining the golfers at this year's Golf Scramble was special guest Zach Rance - reality star and media personality from the CBS hit show Big Brother.
For high-resolution pictures of the event, visit the FIU College of Education Flickr page.
About Continental National Bank:
Continental National Bank is a full-service community bank established in 1974 in Miami as the first Cuban-American-chartered national bank in the United States, serving its customers for 40 years. With six branches conveniently located throughout Miami-Dade County, and with more than $380 million in assets, Continental National Bank was awarded the five-star "superior" rating by BauerFinancial and also has been rated "Outstanding" in their Community Reinvestment Act evaluation by their regulatory agency. The Bank offers a full range of financial products and services for retail, business and institutional clients.
http://www.continentalbank.com