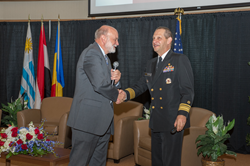 Our objectives are only going to be achieved if we really break down our society into the sub-levels. It's not attainable unless we understand each and every aspect of our society.
LOMA LINDA, CA (PRWEB) April 03, 2015
Loma Linda University Health's 3rd Annual Power of Inclusion Conference, "United We Stand," on March 31 and April 1 focused on the valuable contributions veterans have made not only in service to our nation but also in service to our organizations in terms of the depth and breadth of talent and abilities they offer. Loma Linda University Health administrators, faculty, staff, students and community members came out to hear the various national speakers address unique issues affecting veterans and opportunities to increase their participation and inclusion in our workplaces.
The United States Deputy Surgeon General Rear Admiral (RADM) Boris D. Lushniak, MD, MPH, was the morning keynote speaker on Tuesday, March 31. Speaking on inclusion in wellness, RADM Lushniak gave an overview of what the Office of the Surgeon General has done over the last 100 years to keep the country healthy with a heavy emphasis on the campaign against tobacco use. In an effort to communicate these health messages to the population, he said all facets of society should be included.
"Our objectives are only going to be achieved if we really engage our society at the community level," he said. "It's not attainable unless we understand each and every aspect of our society. The theme here is the power of inclusion—when we look at health and wellness, our message today is that we need to include all facets of society in that health and wellness message."
RADM Lushniak believes it is imperative to incorporate veterans into civilian society. "With regard to creating an inclusive and diverse environment, veterans have an important contribution to make. From a health and wellness perspective, I also know that this is an underserved and vulnerable community in itself."
Something society as a whole may not be doing to include veterans is showing them compassion, which happens to be one of the five core values of Loma Linda University Health. "I think Loma Linda may be a different place," he said, "but I think what we've not done in society in general is to be able to actually accept and stress the importance of compassion and caring for others. We have to be open to compassion, to caring and to love."
No stranger to Loma Linda University Health, RADM Lushniak visited Seventh-day Adventist Cooper Hospital in Monrovia, Liberia earlier this year. "The Seventh-day Adventist community is doing beautiful work out there." This was his first visit to Loma Linda and he admits he was pleased with the visit and his meeting with President Richard H. Hart, MD, DrPH. "It's intriguing to meet the leaders here. I walk away with nothing but positive vibes."
Following the morning session, the conference continued with a delightful lunch session featuring best-selling author, actor, motivational speaker and wounded army veteran J.R. Martinez. Known well for his season 13 win on "Dancing With the Stars," Martinez shared his story of survival, strength and spirit. Even before he was injured by a roadside bomb in Afghanastan, Martinez, born in El Salvador, claimed he was no stranger to diversity growing up in Louisiana and Arkansas being raised by a single mom.
Martinez, who was 19 at the time of his accident, confessed he was in a dark place after learning how his injuries would permanently affect his body, but talking to other wounded veterans in the hospital helped lift his spirits. Now a motivational speaker, Martinez does not believe he or any other "disabled" veterans have a disability. "We have an ability!" he exclaimed to a crowd of approximately 225 guests. "We just do things differently."
The now 31-year-old encouraged the audience to not look at wounded veterans like they can't bring something to the table. "It's important to connect with diversity. We all have to help each other survive."
Martinez concluded by saying we are all human and deserve the same opportunities and respect as everyone else. "If we take a little time to listen to each other we can help save each other's lives."
Greg Crouse, 46, attended the luncheon and was able to closely relate with Martinez's message. Crouse lost his left leg while he was serving in the army in Germany when a drunk driver hit the vehicle he was in. Crouse is now a 2016 Paralympic hopeful in outrigger canoeing.
Crouse also was a panel participant during the afternoon session "Hiring Heroes: Discovering Their Strengths and Ways to Support Them."
Other notable speakers and panel participants during Power of Inclusion included:

Juana Bordas, president, Mestiza Leadership International
Sue Hoppin, MA, expert on military spouses and families
Lieutenant Commander Heidi Kraft, PhD, clinical psychologist and military combat stress specialist
Susan R. Meisinger, SPHR, JD, author and former CEO of Society for Human Resource Management
Anthony Odierno, MBA, retired United States Army First Lieutenant, Bronze Star and Purple Heart recipient
The two-day Power of Inclusion conference concluded with an international food festival on April 1 at Loma Linda University Drayson Center. Guests enjoyed food fare representative of eight regions of the world, with over 30 delicious dishes to enjoy.
For additional information on Power of Inclusion and for photos, visit the event website, powerofinclusion.org.