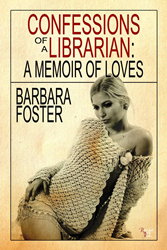 New York, NY (PRWEB) April 03, 2015
Barbara Foster describes herself as a "female Casanova, both bookish and bawdy," who has enjoyed a life as a globe-trotting adventurer.
Foster's travels have taken her across the country and around the world, with stops in Istanbul, Bombay, Buenos Aires, Jerusalem and other locales. But these weren't just sight-seeing excursions.
In her new book, "The Confessions of a Librarian: A Memoir of Loves," Foster reveals how she enjoyed taking on new, exotic lovers during these adventures.
Like the famous lover Casanova, Foster says, she is a librarian, and also like him, she decided to record her experiences. Her life and his are far from exact parallels, though.
"Clearly, I do not live in a time when men fight duels over honor and women peer seductively from behind their fans," Foster says. "In our postmodern time, which does not put much emphasis on chivalry, a female Casanova must fend for herself."
The book's foreword is written by Foster's husband, Michael, who has no problem with his wife's adventures and her fancying herself as a female Casanova because they have had an open marriage for decades.
Michael calls the book "an intimate guide to the not-so-lonely planet."
Amazon reviewer Bernadette Miller writes, "Despite the author's demure job as a college librarian, during her travels she is daring and feisty, confronting dangerous situations with verve and gusto."
Host John Fugelsang on his Sirius radio show summed up: "I can't wait for the movie!"
About Barbara Foster
Barbara Foster has worked as a college librarian and as an associate professor specializing in Women's Studies at the City University of New York. She has published two biographies of "dangerous women," numerous articles on education and travel, as well as 200 poems in literary journals under the name Belladonna. Her latest book just published is "The Confessions of a Librarian: A Memoir of Loves." (http://www.threelovestory.com) At Facebook search for Prof. Barbara Foster or BarbaraFosterConfessions.