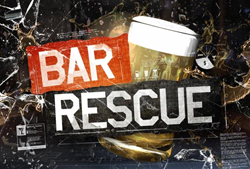 This is the coolest thing I've ever seen in a bar.
Los Angeles, California (PRWEB) April 03, 2015
Bar Rescue is in it's fourth season and is showing no signs of slowing down. For those who aren't familiar with the show's premise, think Extreme Makeover meets struggling bar owner. The producers of Bar Rescue sift through thousands of applications from troubled bar owners seeking a remedy to their failing bars. The goal for Taffer is to revamp and re-launch any struggling bar within 72 hours of his arrival. The show's track record speaks for itself, and the latest recipient of a "rescue" was Los Angeles Brewing Company, located in the LA's historic district.
The owner of LA Brewing Compnay, Richard Ramos, invested $250,000 into his venue back in 2012. Ramos then invested another $250,000 to buy-out his partner, though he was losing $15,000 each month until Taffer and his crew showed up. Taffer later said, "This was the most expensive Bar Rescue I've ever done." Part of the rescue included transforming the location from a bar that sells beer to a bar that makes and sells beer. They are also one of only a few bars in LA where the guests can pour their own beers from self-serve beer taps, thanks to PourMyBeer. "We have been working with Bar Rescue since 2012 and have been in a number of episodes," said Josh Goodman, the CEO of PourMyBeer. "It's great to get the national recognition that comes with working with Bar Rescue. Their team really does work miracles and it's exciting to see it all come together in such a short amount of time."
Upon reopening, the bar was rebranded as LA Brew Co. Guests were flocking to the self-serve beer taps and were fascinated with the concept of being able to pour their own beers. One guest was quoted as saying, "This is the coolest thing I've ever seen in a bar." Self-serve beer has been on the rise over the last few years and will only continue to grow.
http://www.pourmybeer.com is an Innovative Tap Solutions Company. The company was formed in 2009 and made the first commercial mobile self-serve beer tables in the US. It also sells and distributes fixed beer walls, mobile beer walls, fixed draft beer tables and mobile draft self-serve tables. All mobile equipment is made in the USA. Contact sales (at) pourmybeer (dot) com or call 267-323-1100