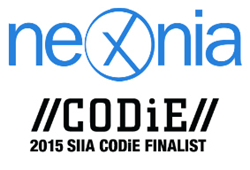 We're incredibly excited to be considered alongside many of our first-class software peers for these prestigious awards.
Toronto, Ontario (PRWEB) April 07, 2015
Nexonia Inc., leading provider of web and mobile business financial management solutions, today announced that Nexonia Time Off was named a finalist for the 2015 SIIA Software CODiE Awards for Best Human Capital/Talent Management Solution. The SIIA CODiE Awards are the premier awards for the software and information industries, and have been recognizing product excellence for 30 years. The awards have over 85 categories and are organized by industry focus of Content, Education, and Software.
This year's program features 29 Software categories, several of which are new or updated to reflect the latest industry trends. Winners will be announced during a special virtual SIIA Software CODiE Awards Ceremony on May 7.
Nexonia Time Off is an intuitive and easy-to-use system, allowing businesses to manage employees' PTO: vacations, sick days, holidays, and more. Employees can use the software to book vacations in advance and visualize how many days/hours they have in reserve. The latest enhancements to Nexonia Time Off include an integration with Nexonia Timesheets, providing customers with the freedom to set the accrual parameters in Nexonia according to their company's policy, reducing the need the manually adjust individual PTO.
"We're incredibly excited to be considered alongside many of our first-class software peers for these prestigious awards," said Neil Wainwright, CEO of Nexonia Inc. "We've worked exceptionally hard on refining our products to delight our customers, so it's truly an honour to be recognized as an industry leader."
"All of the CODiE finalists this year showcase innovation and creativity in today's market. We are happy to recognize them for their products that are breaking ground in the software and services industries," said Rhianna Collier, VP & General Manager for the Software & Services Division at SIIA.
Details about each finalist are listed at http://siia.net/codies/2015/finalists.asp
About SIIA
SIIA is the leading association representing the software and digital content industries. SIIA represents approximately 800 member companies worldwide that develop software and digital information content. SIIA provides global services in government relations, business development, corporate education and intellectual property protection to the leading companies that are setting the pace for the digital age. For more information, visit http://www.siia.net.
About SSD
The Software & Services Division of SIIA (SSD) represents companies that develop the applications, services, infrastructure and tools driving the success of today's high-tech industry. SSD programs and activities are designed to foster company growth and success by providing professional insights and strategy, executive networking, industry exposure and business development opportunities. SSD member executives actively collaborate to share business and operational expertise, best practices, and new innovations to help companies efficiently build growing and successful businesses. For more information, visit http://www.siia.net/SSD.
About Nexonia:
Nexonia Inc. is a provider of leading web and mobile Nexonia Expenses, Nexonia Timesheets, Nexonia Time Off, Nexonia Time Allocation, Nexonia Purchase Orders, Nexonia Accounts Payable and other business financial management solutions. Nexonia's simple-to-use and highly customizable applications are fully integrated with ERPs, credit cards and other systems supporting a variety of businesses. Nexonia solutions are designed to streamline the reporting and approval process, improve human resource management and enhance operational efficiency.
To receive more information, visit http://www.nexonia.com or call 800-291-4829.
###