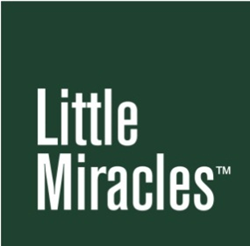 London, England (PRWEB) April 03, 2015
Looking for a boost without the jitters or crash that come with energy drinks? Little Miracles, the fashionable London beverage company well-known for delicious bottled superfruit juice blends that deliver a healthful, natural pick-me-up, is now making a significant mark in the U.S. market.
The Little Miracles line of drinks, are fusions of tea and superfruit juices like acai and pomegranate, featuring pure Panax ginseng for a natural "zing" that is both refreshing and invigorating. They are already distributed in 25 European countries, where they are consumer favorites.
Little Miracles is known for wowing crowds with free samples at hip music venues, high-profile sporting events and on the fashion scene across Europe. From London runways to trendy surfing events to the Forever 21 grand store opening in Amsterdam, Little Miracles is powering the social scene, wherever something cutting-edge is happening. Recently, the company has developed a partnership with Forever 21 and has sponsored NYC's Color Me Rad 5k.
"Drinking our Little Miracle fusions says something about who you are: on-the-go and up-to-date, but also health conscious," said Bob Groux, U.S.CEO of Little Miracles. "Our customers don't want an artificial energy high; they want a natural boost without side effects that will slow them down or make them less productive in the long term. Ginseng is the hot, new go-to for natural vitality."
As a veteran of the beverage distribution industry, Groux knows a game changer when he sees it. He characterizes Little Miracles superfruit juice blends as "powerhouse" beverages in the healthiest sense of the term. All blends include Panax ginseng, believed to boost the immune system and combat fatigue as well as improve alertness, memory and concentration. Other benefits include increased stamina and stress reduction.
"Our Danish founder travelled extensively in China, where he learned the special properties of the Chinese ginseng root," Groux said. "Panax ginseng, the purest variety, is an ancient secret of traditional Chinese medicine to awaken energy naturally."
Little Miracles are available in five delicious flavors including Green Tea and Pomegranate, White Tea and Cherry, Lemongrass Tea and Ginseng, Black Tea and Peach and new Rooibos Tea and Elderflower/berry.
All Little Miracles drinks are organic, non-GMO and free from artificial colors, flavors and sweeteners. They are sweetened with natural agave, which offers sustained energy without refined sugar. The blends are 90 calories or less per serving and are available in 11 oz. re-sealable bottles. Little Miracles fusions offer everything today's vital, health-conscious consumer demands.
Winner of a 2013 Quality Food Award, the most prestigious awards for food and drink products on sale in UK grocery outlets, Little Miracles good-for-you drinks are now changing the conversation about healthy, revitalizing beverages in the U.S.
You can find Little Miracles fusions at the following retailers:
West Coast
Sprouts
Fresh & Easy
Andronicos
Draegers Supermarket
Oliver's Market
Whole Foods – Pacific Northwest
Mother's
Lassen's
East Coast
Shaws
Stop & Shop
Giant stores
King's
For more information about Little Miracles, visit DrinkLittleMiracles.com. For interviews or product samples, please contact the names listed at the bottom of the release.
About Little Miracles
Little Miracles, headquartered in London, is a global organic beverage brand with distribution in 25 European countries and in the U.S. Its full line of organic fusions of tea and superfruit juice were developed with consumer health and well-being in mind. Made with carefully selected Panax ginseng in its purest form and sweetened with organic agave, all Little Miracles drinks are less than 90 calories or less per serving and free from artificial colors, flavors and sweeteners.
MEDIA CONTACTS:
Alexandra Salazar
McFadden/Gavender
O: (520) 882-6262
M: (520) 820-9948
alexandra(at)mcfaddengavender(dot)com
Christina Thompson
McFadden/Gavender
O: (520) 882-6262
M: (623) 229-2597
christina(at)mcfaddengavender(dot)com
Website:
DrinkLittleMiracles.com
###