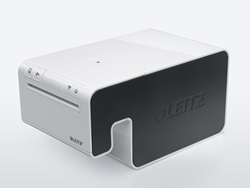 Red Dot and iF are the venerable gold standard of design award programs
San Jose, CA (PRWEB) April 06, 2015
Whipsaw Inc, the Silicon Valley-based Industrial Design and Engineering firm that creates innovative products for companies around the globe, announces that four of their designs won the esteemed Red Dot and two won the other big German award, the iF Design Award.
The Highfive Videoconferencing System, the Leitz Icon Smart Labeling System, the Google Chromecast, and the Eton Rukus Xtreme won Red Dot. Highfive and Leitz also won the iF.
Red Dot is celebrating its 60th anniversary this year. The international expert jury scrutinized and assessed 4,928 entries, a record number, from 56 countries but only those designs showing exceptional quality and deep innovation were given an award.
The iF Design Award is an internationally established symbol identifying outstanding achievements in design. For over 60 years the iF logo has been used to label design excellence around the world. The international high-profile jury evaluated almost 5,000 entries from 53 countries in order to determine who would receive this coveted seal of excellence.
"Red Dot and iF are the venerable gold standard of design award programs. We thank both organizations, their respective jurors, and most of all our clients who entrust us to create winning solutions for them," said Dan Harden, President/CEO and Principal Designer of Whipsaw.
The award winning Whipsaw product designs are:
Highfive (iF + Red Dot) - an all-in-one video conferencing system delivering HD video with high-fidelity audio and easy screen sharing to improve business communications.
Leitz Icon Labeling System (iF + Red Dot) - a wireless, compact and portable label printer to conveniently print labels directly from apps on a smart phone or tablet.
Google Chromecast (Red Dot) - an inexpensive dongle-like digital media player that connects to your TV's HDMI port to stream audio and video content directly to your TV screen via Wi-Fi.
Eton Rukus Xtreme (Red Dot) - an outdoor solar-powered wireless music player.
About Whipsaw:
Whipsaw is an Industrial Design & Engineering consulting firm located in Silicon Valley California, with a focus on innovative product design, development & branding. Whipsaw creates highly successful products across many diverse fields including consumer electronics, housewares, wearables, medical, computing, scientific, and business equipment. Whipsaw's clients range from large corporations like Avaya, Cisco, Clorox, Dell, GE, Google, Haier, Intel, Leitz, Merck, Motorola, Nike, Olympus, Samsung, SunPower and TP-Link; plus exciting startups including Apnicure, Avinger, Dropcam, Highfive, Livescribe, OM Signal and Yubo.
Whipsaw has been widely published; has won over 200 Industrial Design Awards; and has creations in the Smithsonian Institution Cooper Hewitt Design Museum and the Chicago Athenaeum Museum of Architecture and Design.