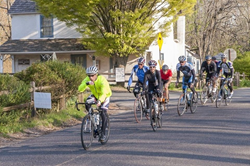 Somerset, NJ (PRWEB) April 06, 2015
The annual Tour de Franklin bike ride fundraiser for the Franklin Township Food Bank will be on Sunday, April 26, 2015 in Somerset, NJ. The Tour de Franklin includes seven events throughout the day, ranging from a 62 mile bike ride to a 1 -5 mile ride/walk.
About the Tour De Franklin
The Tour De Franklin is the Food Bank's largest annual fundraiser. It is an opportunity to bring avid cyclists, local schools, and the Franklin Township community together for one day to support a local cause – fighting hunger. The day starts at 7:30 AM with a well-marked, on road, 62 mile bike ride, with over 100 participants from the east coast. The 40-mile, 25-mile, and 10-mile rides start later. A 1-to-5 mile neighborhood ride or walk is included, as well as a 1-to-10 mile ride or walk along the scenic D&R Canal path, so that everyone in the community can participate. There is a free bike drawing, lunch for all attendees, and t-shirts, depending on availability. Last year over 660 people participated, raising over $63,000 for the Food Bank.
A Community Tradition to Fight Hunger
For more than a quarter century, the Tour de Franklin has been a community tradition to fight hunger. What started as a small bike ride of 30 riders raising $1,500 in 1989 has grown to a major event with 500 to 700 people coming together each year to raise over $50,000 annually for the Food Bank. Moreover, the Tour de Franklin is a tradition in the biking community, with riders from as far away as Rhode Island and Maryland participating. While $50,000 sounds like a lot, it is less than 10% of the food bank's annual budget of $600,000. The Food Bank uses every penny raised to meet the ever growing need for food assistance.
Franklin Township Food Bank's fight against local hunger
For 40 years, the Franklin Township Food Bank's mission has been to provide food and assistance to people in need, and in recent years that need has grown approximately 10% annually. In 2014 the Food Bank had 10,924 visits, helping 2,057 clients, a 9% increase over 2013. 2013 also saw an increase of 800 visits over 2012. The Food Bank is not a part of any government agency, and receives almost all of its funding and support from the community and fundraisers like the Tour de Franklin.
To find out more
To learn more about the Franklin Township Food Bank or to sign up for the Tour de Franklin, go to http://www.franklinfoodbank.org, call 732-246-0009, and follow us on Facebook.