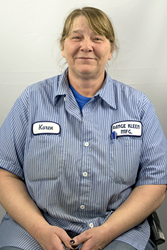 Karen has shown a great ability to get the job done & is willing to go the extra mile to TCOTC. Her commitment to succeed & her passion for Range Kleen, makes me know that she will do a great job at the next level. -Becky Hesseling, Operations Mgr.
Lima, Ohio (PRWEB) April 06, 2015
Karen Plumb started at Range Kleen Mfg. December 19, 2005 as a Packaging Technician. As a Packaging Technician, Karen worked to complete production schedule to build and package products and assisted in unloading containers. Throughout Karen's 9+ years as an Associate with Range Kleen she has shown a willingness to grow within the company and possesses a great attention for detail, which adapted into Karen's transition as a Material Handler. She is very diligent in her efforts to maintain constant flow of product to and from production lines within packaging and within the warehouse. As a Material Handler Karen also quickly learned how to process orders to assist Order Technicians in processing outbound orders when needed.
In June of 2014 Karen was announced as Range Kleen's Warehouse Coordinator. Karen has exceled in her efforts to maintain and manage flow of stock from warehouse to warehouse.
As of April 1, 2015 Range Kleen announces Karen as the new Receiving Manager. In this new role, Karen will be responsible for tracking, scheduling and receiving all shipments in to Range Kleen Mfg. She will also be responsible for training and overseeing Material Handlers in all areas within the Company.
About Range Kleen Mfg.
Range Kleen Manufacturing, Inc. is a Lima, OH based company manufacturing household products sold to major retail chains globally and has been taking care of the customer (TCOTC) since 1971. Its product divisions include Original Equipment Manufacturing Quality (OEM) replacement drip pans for ranges & stoves; Non-stick Metal Bakeware; Kitchen Decorative products specializing in exclusive licensed designs; Storage, Organization, insulated food and beverage bottles and household cleaning supplies. Range Kleen Introduced their own line of cookware- Stainless Steel and Enameled Cast Iron as well as pot racks in 2007.
Effective December 21, 2009, Range Kleen Manufacturing was pleased to announce the partnership with Berndes Cookware USA and has taken the lead of all sales, marketing and shipping of Berndes Cookware USA from their International Headquarters in Lima, Ohio.