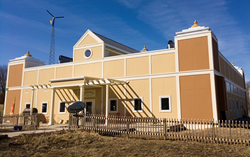 Deep Sustainability offers a new perspective on what human civilization will require not only to persist, but flourish.
Fairfield, IA (PRWEB) April 04, 2015
Pioneering an approach called Deep Sustainability, Maharishi University of Management will launch its new master's in Sustainable Living program this fall.
Deep Sustainability offers a new perspective on what human civilization will require not only to persist, but flourish. Students learn how transformation towards sustainability can be promoted from the deepest level of nature. Combining classroom study with field experience, students will learn how to lead society towards a brighter, more sustainable future.
Students go through a set sequence of courses together as a unit, or cohort. This enables them to study advanced topics more deeply and bond more closely as a team. Flexible scheduling allows for courses to last from a few days to six weeks or more.
MUM students also enjoy a program of Consciousness-Based education. With this, they develop the most powerful of all resources: their own consciousness.
Graduates of the program will have the knowledge, skills, and development of consciousness they need to help design, build, and maintain sustainable communities at the local, regional, national, and global levels. They will gain a broad, high-level education they can utilize in any area of industry or community service and become qualified to join the next generation of leaders in moving our world towards a more sustainable planet.
The fields of study covered in the MA in Sustainable Living include:

Advanced Ecological Design
Cultural Competence
Holistic Community Development
Transformative Entrepreneurship
Holistic Social Justice
During their first year, students will spend the first half of the program working with professors and experts, both in the classroom and on field trips. Then, they will embark on semester-long or year-long local projects, which they help design, guided by faculty.
Beginning in the second year, students will have the option to work in the field, gaining valuable knowledge and experience specific to their unique interests. They may also conduct research. Fieldwork opportunities will be presented to students, or students may design their own project. All work will be guided by a mentor, and students will be expected to produce a report or thesis of publishable quality.
For more information on both the program and Deep Sustainability, click here.
Join us to help create a deeply sustainable society.
Maharishi University of Management is located in Fairfield, Iowa. The Sustainable Living undergraduate and master's programs teach students about the impact humans have on the planet through a transdisciplinary, project-based approach to higher education.
Founded in 1971, Maharishi University of Management (MUM) offers Consciousness-Base Education, a traditional academic curriculum enhanced with practice of the Transcendental Meditation technique, which reduces stress, develops total brain functioning and better health, and cultivates creativity and intelligence. Students are encouraged to follow a more sustainable daily schedule that balances study, exercise, meditation, and rest, without the typical college burnout. All aspects of campus life nourish the body and mind, including organic vegetarian meals served fresh daily. Located in Fairfield, Iowa, MUM is accredited by The Higher Learning Commission and offers bachelor's, master's, and doctoral degrees in the arts, sciences, humanities, and business. Visitors Weekends are held throughout the year. For more information, call the Admissions Office at 800-369-6480 or visit our website.