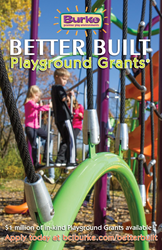 FOND DU LAC, Wis. (PRWEB) April 03, 2015
BCI Burke is helping communities play better by providing "Better Built" playground grants on the most innovative and industry leading structures. Burke's NucleusTM, Intensity®, NaturePlay®, Little BuddiesTM and VoltageTM play systems are featured in the $1 million playground grant program.
The "Better Built" grants are in the form of a discount off of list price and help to incentivize leaders at schools, churches, child cares, municipalities, homeowners' associations, and other groups who are looking to improve their outdoor play areas, to apply and save on their playground. The grant program continues through June 19, 2015. Organizations interested in taking advantage of the program should contact their local Burke representative by calling 800-266-1250 or apply online at http://www.bciburke.com/betterbuilt.
"Burke has a passion to provide play for all children, and with an in-kind grant to help bolster project momentum, playground projects can become a reality faster," said Michael E. Phelan, president and CEO of BCI Burke Company. "Having a quality playspace with exciting and innovative product can bring a community together and give families a place to meet and play," added Phelan.
BCI Burke's Reinventing PlayTM business focus showcases continual improvement and premium customer commitment, as well as creating the highest quality playground, park and recreation products that are backed by the best warranty in the industry. Since its inception in the early 1920s, BCI Burke has been an avid champion of engaging kids and families in healthy, challenging and safe play. For more information, visit http://www.bciburke.com.