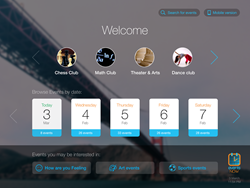 "We believe in Screening for Mental Health's vision to see mental health treated with the same gravity as physical health," said Advanced Kiosks President and Owner Howard Horn.
Franklin, NH (PRWEB) April 07, 2015
Screening for Mental Health Inc. (SMH), the pioneer of large-scale mental health screenings for the public, is teaming up with self-service systems innovator Advanced Kiosks to help colleges and universities enhance their campus communities.
Through SMH's innovative MindKare® program, institutions of higher education will have the opportunity to place interactive kiosks in public, high-traffic areas where anyone passing by can quickly and easily take an anonymous self-assessment to determine whether they might be at risk for common mental health issues such as depression, anxiety or eating disorders.
Depression affects almost 10% of the U.S. population in any given year, and many people first begin to exhibit signs of depression during their college years. Anonymous screenings are proven to help people seek necessary treatment because respondents are more likely to give honest responses and, thus, more likely to take the assessment's findings seriously.
MindKare® kiosks are groundbreaking for their ability to conduct "checkups from the neck up" while taking a holistic approach to health and wellness. The combination of SMH's online screening platform with Advanced Kiosks' hardware and software creates a multipurpose system designed to address individuals' immediate health needs while building and enriching campus communities. Each MindKare® kiosk hosts a fully integrated software suite featuring mental health screenings for colleges and universities and can also include the revolutionary EventsNOW calendar aggregator that allows users to browse every event happening across a college campus -- all schools, all departments. Students can stop and reflect on their personal well-being before reaching out to engage in whichever activities or events they find meaningful. By finding their place within the larger campus community, students combat loneliness and social isolation, two of the main causes of depression.
Counselors, deans and student affairs professionals in higher education are invited to attend a webinar on April 15th jointly hosted by SMH and Advanced Kiosks. The live webinar will walk attendees through the mental health screening kiosks' functionality and explore the macro issue of how colleges and universities can better foster a sense of interconnectedness on campus. To register for the webinar, follow this link.
"In this era of social media and constant electronic chatter, Advanced Kiosks' products are a simple and elegant way to foster connectedness and support help-seeking behaviors," says Michelle Holmberg, Director of Programs, Screening for Mental Health Inc.
"We believe in Screening for Mental Health's vision to see mental health treated with the same gravity as physical health," said Advanced Kiosks President and Owner Howard Horn. "This is an important cause, and we are honored to be a part of it."
Thanks to a combination of crowdfunding and support from the Scattergood Foundation, Drexel University will host the first two mental health screening kiosks on a college campus; one in the recreation center and one at Stephen and Sandra Sheller 11th Street Family Health Services.
"Having MindKare kiosks on your campus sends a message to students, faculty and staff that this is a place that cares about who you are and wants you to do well and be well," Holmberg says. "It's a very powerful message."
For media or information regarding MindKare®:
Sue Thorn
Screening for Mental Health, Inc.
781-591-5243
sthorn(at)mentalhealthscreening(dot)org
About Screening for Mental Health:
Screening for Mental Health Inc. (SMH), the pioneer of large-scale mental health screening for the public, provides innovative mental health and substance abuse resources, linking those in need with quality treatment options. SMH programs, offered online and in-person, educate, raise awareness and screen individuals for depression, bipolar disorder, generalized anxiety disorder, posttraumatic stress disorder, eating disorders, alcohol use disorders and suicide. Thousands of organizations worldwide, including hospitals, military installations, colleges, secondary schools and corporations, utilize SMH's educational and screening programs, and in turn, have reached millions of people ranging from teenagers to adults.
For information regarding Advanced Kiosks hardware and EventsNOW software:
Sales Contact:
Kara Levasseur
Advanced Kiosks
(603) 865-1000 Ext. 115
Kara(at)advancedkiosks(dot)com
http://www.advancedkiosks.com
About Advanced Kiosks:
Advanced Kiosks is a premier supplier of state-of-the-art computer kiosks, providing interactive turnkey solutions designed, engineered, manufactured and supported right here in the United States. Advanced Kiosks has many off-the-shelf, self-service kiosk designs and can also create custom-built hardware with fully customizable software for the most personalized self-service kiosk experience possible. For over 15 years, Advanced Kiosks' commitment to quality and service has been unparalleled. Its three-year, end-to-end warranty is the best in the business.