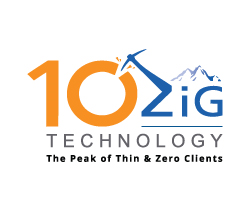 Phoenix, AZ (PRWEB) April 03, 2015
10ZiG Technology has recently announced its 2015 second quarter trade show schedule which kicks off in Austin, TX at the Austin VMUG April 7th. Always one of the more popular vendors, 10ZiG has thrived over the last decade by providing potential customers with ample opportunity to see, touch and demo their industry leading thin and zero client hardware at trade shows across the U.S.
During the next eighteen trade shows, attendees will have a chance to get up close and personal with 10ZiG's recently introduced, powerhouse thin client: The 5800q Series featuring Intel Celeron quad core processors.
10ZiG Technology's 5800q Series thin client computing solution is engineered to handle graphic intensive projects in addition to a broad range of 3D and multimedia applications while reaping the benefits of a secure and centralized infrastructure. The 5800q Series features enhanced hardware allowing for the use of Citrix HDX 3D Pro technology which was specifically developed for accessing server-based 3D applications. When running 3D applications, high performance CAD workstations and/or servers equipped with NVIDIA GRID cards are used in the computer center.
Receive a hands-on demonstration of the new 5800q Series Thin Client and the All-in-One PCoIP Zero Client at the following venues:
Apr 7th: Austin VMUG User Conference - Austin Convention Center - Austin, TX
Apr 12th: HIMSS 2015 Conference- McCormick Place, Booth #7745 - Chicago, IL
Apr 14th: Silicon Valley VMUG User Conference - San Jose Convention Center - San Jose, CA
Apr 16th: South Florida VMUG User Conference - Palm Beach County Convention Center - West Palm Beach, FL
Apr 19th: RSA Conference - Moscone Center – San Francisco, CA
Apr 21st: San Diego VMUG User Conference - San Diego Marriott Marquis - San Diego, CA
Apr 26rd: COMMON / IBM User Group - Disneyland Resort - Booth #504 - Anaheim, CA
Apr 28th: Wisconsin VMUG User Conference - Marriott Madison West - Middleton, WI
May 12th: Philadelphia VMUG User Conference - Radisson Valley Forge - King of Prussia, PA
May 21st: Connecticut VMUG User Conference - Connecticut Convention Center - Hartford, CT
May 27th: Denver VMUG User Conference - Hyatt Regency Denver at Colorado Convention Center - Denver, CO
June 2nd: Central OH VMUG User Conference - Hyatt Regency Columbus - Columbus, OH
June 4th: Charlotte VMUG User Conference - Charlotte Convention Center - Charlotte, NC
June 16th: Kansas City VMUG User Conference - Overland Park Convention Center - Kansas City, MO
June 17th: BC Regional VMUG User Conference – Vancouver Convention Center - Vancouver BC, CAN
June 18th: Boston VMUG User Conference -Boston Convention and Exhibition Center - Boston, MA
June 23rd: Minneapolis VMUG User Conference - Doubletree Minneapolis Bloomington – MN South - Minneapolis, MN
June 26th: KIS Customer Event - San Jose, CA
About 10ZiG Technology
10ZiG Thin Clients & Zero Clients are optimized for desktop virtualization and offer the latest VDI brokers preinstalled, with support for PCoIP, HDX, and RDP protocols to name a few. Combining the best of breed in security, high performance and flexibility, 10ZiG devices offer the complete desktop experience. Our goal is to take the complexity out of Desktop Virtualization by providing Thin Clients and Zero Clients with components that simplify implementation, improve management and enhance the user experience. Our Thin Clients and Zero Clients are available in a wide-range of hardware options including wireless devices, All-in-Ones and small form factor logic units. On the Thin Client your choices of OS are between PEAKos (Linux), Windows Embedded 7 or 8.
-END-
Media Contact:
Christine Holtz
Phoenix Marketing Associates
http://www.PhoenixMarketingAssociates.com
602-282-0202