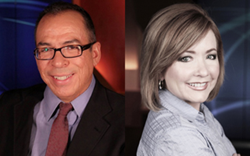 "We are thrilled to welcome Angela and Alfredo — two of the country's top borderlands reporters — to one of the Cronkite School's signature events." -- Cronkite School Dean Christopher Callahan.
Phoenix (PRWEB) April 03, 2015
Two award-winning journalists who cover the U.S.-Mexico border will deliver the ninth annual Paul J. Schatt Memorial Lecture at Arizona State University's Walter Cronkite School of Journalism and Mass Communication.
Alfredo Corchado, Mexico bureau chief at The Dallas Morning News, and Angela Kocherga, border bureau chief at Gannett, will discuss border coverage, the drug wars and the state of journalism in Mexico during a free public lecture on Tuesday, April 14, at 7 p.m. at the Cronkite School on ASU's Downtown Phoenix campus.
Corchado, author of "Midnight in Mexico: A Reporter's Journey Through a Country's Descent into Darkness," covers U.S. policy in Latin America for the Morning News. His reporting has earned him awards that include the Maria Moors Cabot Prize and the Elijah Parish Lovejoy Journalism Award. He also was a finalist for an award from The Center for Public Integrity for his reporting on Ciudad Juarez, Mexico, and the rise of a paramilitary group known as the Zetas. He previously was a correspondent for The Wall Street Journal.
Kocherga is an Emmy award-winning journalist who covers the southwest border and interior of Mexico. She has extensive experience covering the drug war's impact on families on both sides of the border, immigration issues, human trafficking, drug smuggling and gun running. She earned two Emmys for her drug war reporting from Ciudad Juarez and also has covered the security build up along the border, binational health and trade issues.
The speakers come at a time when the Cronkite School is increasing its focus on coverage of borderlands and immigration issues. The school is adding professors and opening a multimedia, bilingual reporting bureau in which students will focus on issues of concern to Latino communities in Arizona, along the U.S.-Mexico border and in Mexico. Cronkite also recently established a new dual degree program with ASU's School of Transborder Studies in journalism and borderland studies.
"We are thrilled to welcome Angela and Alfredo — two of the country's top borderlands reporters — to one of the Cronkite School's signature events," said Cronkite School Dean and University Vice Provost Christopher Callahan. "For more than 30 years, Paul Schatt inspired journalism students at ASU. This lecture is a fitting way to honor one of the best in journalism education."
The Cronkite School established the Schatt Lecture series in 2007 in honor of the late longtime Arizona Republic reporter, editor and columnist, who was an adjunct faculty member at the Cronkite School. The series is supported by an annual gift from The Arizona Republic and an endowment created in Schatt's memory by his widow, Laura Schatt-Thede.
Previous speakers have included Washington Post National Political Editor Steven Ginsberg, former New York Times Deputy Editorial Page Editor Carla Robbins, CNN Senior Media Correspondent Brian Stelter and award-winning investigative journalist and author Mitchell Zuckoff.