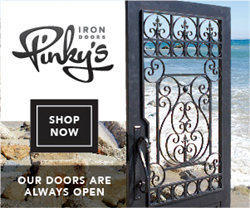 Shopping for Wrought Iron Front Doors just got a lot cooler!
Los Angeles, CA (PRWEB) April 14, 2015
Pinky's Iron Doors is proud to announce the launch brand new website and collection of high quality external wrought iron front doors. The company has fused together quality and convenience by providing home and business owners in forty-eight states throughout the nation with a seamless, trustworthy, and convenient way to order luxury entry doors, windows and other accessories at competitive prices. Beyond a fast and easy ordering system, Pinky's provides superior quality doors that have been previously handcrafted and custom made by master artisans for immediate purchase and fast delivery.
After four decades of experience in the iron industry, the company founders created Pinky's to focus on their passion for ironwork and offer an accessible and affordable path to getting luxury iron doors without any complexities. With a focus on quality doors, clients can choose amongst a wide variety of styles and designs ranging from extremely decorative and ornate doors to simple and sleek contemporary designs. Homeowners will have no problem finding the perfect match for their unique taste and the distinct style of their home.
Pinky's Iron Doors is a family-owned and operated company based in the heart of Los Angeles. The process is as simple as it is seamless. Pinky's creates the highest quality wrought iron entry doors in a variety of styles. Clients across the nation choose the right design for their home, and with a mouse click, new iron doors will be on their way. It's as simple as it sounds. The Pinky's team is proud to offer a convenient and affordable way to add luxury ironwork to homes in forty-eight states nationwide.
With http://www.pinkysirondoors.com, shopping for iron doors just got a lot cooler. The brand new website offers a sleek and contemporary look with a lot of character. The simplistic and modern website design makes shopping for luxury iron doors and navigating through the site smooth and simple. Pinky's Iron Doors is pleased to introduce an innovative approach and fresh look to shopping for iron doors.