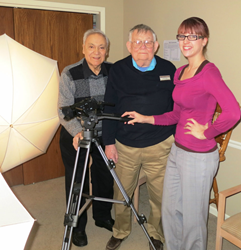 "I love working with seniors—my connection with them is a two-way road. They're thrilled to have my younger spin on things, but they have taught me so much, too. They've helped my heart to grow."
schaumburg, il (PRWEB) April 06, 2015
Roberta Anglin is bringing a whole new dimension to chronicling resident activities at Friendship Village, a senior living community in Schaumburg, where she enjoys working as lifestyles production coordinator. When residents go rock climbing, indoor skydiving, snow tubing, and go-carting (yes, you read that right), Roberta and her volunteer video crew of residents are there to film it and show the world that life is for living—at any age. Videos are for the village's own TV channel, which can be viewed in every resident's apartment, as well as broader media, such as YouTube. "Our goal is to promote wide-range active aging," said the 24-year-old graduate of Chicago's Loyola University.
"Everyone has a blast on our outing," boasted Anglin. In a video featuring seniors at iFly Chicago indoor skydiving, resident Judy Kucz said, "I've always wanted to take risks, but never had the courage. I felt like [the skydiving event] was a way to take a risk without really being in danger. The exhilaration was amazing!"
Adrenaline-pumping fun aside, videos are also about the good seniors are doing through national, global and self-established initiatives like the Senior Outreach Coalition, their commitment to fitness and wellness, and some of the community's remarkable residents and staff. To further engage residents and the greater viewing audience, Anglin hopes to expand the TV studio and acquire more sophisticated equipment. "Our volunteers are also very excited about this. They help me film, edit and produce all our content."
Helping the TV crew is just one of many ways residents can become involved at Friendship Village. "There are opportunities every day to remain active, educated, spiritually connected, and everyone gets really close," said Anglin, who tells the story of a woman who was initially overwhelmed by all the choices at her new community. "She found her niche, and now she has the biggest smile on her face and participates in so many events."
A three-time recipient of the Excellence In Community award from LeadingAge Illinois (the largest elder care association in Illinois), Friendship Village is intentional about inviting the greater community to its programs and activities. Coming in September, the "Silver Games" Olympics, including multi-faceted mental and physical activities, will be open to all seniors in the area. "Our resident volunteers will be reaching out to their peers in the community," said Anglin.
A communications major in college, Anglin was expecting to use her skills in broadcast news. "I was surprised to end up working with seniors," she said," but I couldn't be happier where I am. The position at Friendship Village described a lot of what I was trained to do." She is quick to point out, however, that the ability to use her technical expertise is the least of what she gains from her job. "I love working with seniors—my connection with them is a two-way road. They're thrilled to have my younger spin on things, but they have taught me so much, too. They've helped my heart to grow."
Friendship Village is a leading Chicago-area retirement community offering a complete continuum of care including independent living garden homes and apartment homes, as well as assisted living, memory support, skilled care, and short- and long-term rehabilitation services. For more than 35 years, Friendship Village has been providing Chicago area seniors with exceptional retirement living options. For additional information visit http://www.FriendshipVillage.org