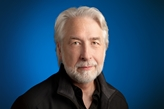 We send well in excess of 10 billion visits per month to news organizations around the world.
New York, NY (PRWEB) April 03, 2015
"We see our role as producing more audiences for high quality content from various sources," said Richard Gingras, Senior Director of News and Social Products at Google.
Gingras, the de facto head of Google News, was the featured guest yesterday at IESE Business School Global Leadership Breakfast series held at the global business school's New York Center. About 100 executives attended the event. Dr. Bill Baker, Distinguished Professor of Media Management at IESE and President Emeritus of WNET, conducted the hour-long interview with Gingras.
"We operate the largest 'go away site' on the web. Most developers on the web are trying to build go-to sites, 'come to me.' We send you away all the time…we send well in excess of 10 billion visits per month to news organizations around the world…And that continues to grow rapidly…That's important to the user in introducing them to different perspectives…and for publishers so that they can build audiences in this new ecosystem – we are very proud of that," said Gingras.
Gingras explained that Google News was created right after 9/11 by an engineer at Google who wanted to get a broad understanding of how the world was perceiving that major event. The idea was to provide a broad range of perspectives on the news, a "diverse set of views."
According to Gingras, Google News fits into Google's core objective of "how do we organize the world's knowledge and make it easily accessible…. Our objective at Google News is how do we make the connection for users, their own interests…with the best possible articles available on the web," said Gingras.
Gingras said at Google they work hard to evolve amidst the ongoing changes and disruptions occurring, emphasizing their need to stay nimble, mobile and aware of changes all the time.
"Things are changing rapidly and will continue to change. You cannot simply assume anything, "said Gingras. "Larry's (Page) big message to us constantly is think 10X, think beyond the current because that is our only hope," said Gingras.
This theme of being able to adapt to changing business models and disruption is constantly dealt with in IESE Business School's executive education programs in the U.S. and throughout the world. For example, IESE's Advanced Management Program in Media and Entertainment is designed specifically for senior executives in the media and entertainment sectors. With five modules delivered over a ten-month period and taking place in New York City, Los Angeles and Barcelona, this unique program broadens participants' perspectives on the industry and equips them with the leadership skills necessary to make critical decisions in the face of uncertainty and at the same time drive their organization's bottom line. The program includes guest speakers such as Hearst Corp. Vice Chair Franck A. Bennack, Jr., CBS Evening News Executive Producer Steve Capus, the Executive Chairman of Prisa Juan Luis Cebrian and others.
About IESE Business School
IESE, the business school of the University of Navarra, is one of the world's top ten business schools and has pioneered business education in Europe since its founding in 1958 in Barcelona. IESE distinguishes itself in its general-management approach, extensive use of the case method, international outreach, and emphasis on placing people at the heart of managerial decision making. With a truly global outlook and campuses in Madrid and Barcelona, a center in New York and offices in Munich and Sao Paulo, IESE currently runs programs on four continents. Its executive education programs were ranked #2 in the world by the Financial Times in 2013 and 2014. For more information, please contact Marie T. Oates: moates(at)iese(dot)edu or 617-290-7795, or visit http://www.iese.edu.