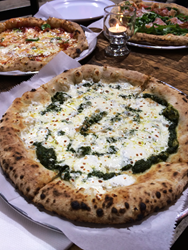 A techno-ecological marvel!
New York, NY (PRWEB) April 06, 2015
Some of you may have heard of Neapolitan Express and know it as a mobile pizza-carrying truck, but these trucks are quite different. With 12 so far, they are a techno-ecological marvel; custom made and powered by compressed natural gas and solar panels mounted on the roof. Inside are custom made ovens that can go as high as 1000°, and what they cook in them is really special; all organic ingredients, non-GMO, no sugar added, no fructose corn syrup, and low sodium, creating an extremely tasty and healthful pizza. Is this a contradiction? Tasty and healthful rarely go hand in hand, so let's put it to the test.
From their humble beginnings with their first brick and mortar location uptown on 111th street, and growing in a short time to a second location in the heart of the financial district, Neapolitan Express is taking this town by storm.
Read the full review presented by Tom Mastrianni from "Wine & Dine with Mastro" as he critiques 8 of the offerings which will be unveiled at the newest location on April 7th in the Trump Building at 40 Wall Street. This will be the first time a pizzeria has ever opened on Wall Street and it looks like they hit it right on the money!