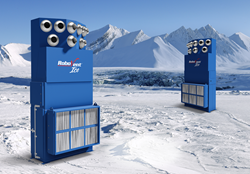 COLUMBUS, Ohio (PRWEB) April 06, 2015
RoboVent (http://www.robovent.com), a leading provider in Industrial Filtration and Ventilation products, announced that they recently made the decision to become one of the newest WMTS exhibitors for the 2015 season! Western Manufacturing Technology Show (WMTS) is Western Canada's marketplace for machine tools, tooling, metal fabrication, automation & assembly, advanced manufacturing and plant maintenance.
Duncan Beaumont, RoboVent's Solution Director for the Canadian Region will be heading up the booth and will be supported by RoboVent's Saskatoon Application Specialist, Tim Main and Stuart Pollak, the Director of Marketing for RoboVent's corporate office.
RoboVent will be highlighting their newest capabilities at the show; including their revolutionary, patent-pending technology named RoboVent ICE. RoboVent ICE is an innovative air handling solution which is transforming the way fabricators improve working environments by combining air conditioning and fume control. These advancements attract, motivate, and retain top employees in addition to increasing safety and overall well-being.
To learn more about RoboVent and these exciting new offerings, visit them in booth 937 at the WMTS Trade Show June 15th-17th, in Edmonton, Alberta, Canada.
About The Company
During the past 25 years RoboVent has established itself as leader in the field of air filtration with highly efficient, reliable and cost-effective systems installed at major manufacturing operations across North America. Applications include welding, cutting and metalworking; dust and lubricant mist collection; and general ventilation. At its core, RoboVent is an environmental problem solving company for process systems. Their expertise and resources in collecting, filtering and recycling contaminated air can be applied to almost any process in the manufacturing environment. For more information visit http://www.RoboVent.com
####
Contact:
Duncan Beaumont
Solutions Director - Edmonton
780.720.3226
duncan.beaumont(at)robovent(dot)com