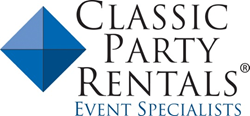 SACRAMENTO, CA (PRWEB) April 07, 2015
Classic Party Rentals Sacramento, a division of the nation's preeminent event rentals and services provider, Classic Party Rentals, was awarded "Rental Company of the Year" for their outstanding work in event rentals and "Meeting of the Year" for their production of the 2014 NACE Gala, by the Sacramento chapter of the National Association for Catering and Events (NACE). The NACE is the oldest and largest catering association in the world, encompassing all aspects of the catering and events industry.
"Our foundation has always been strong at Classic Party Rentals, but this win is proof that our team's fresh approach to the industry is unmatched," says Shook Chand, General Manager of Classic Party Rentals Sacramento. "It means a great deal that such a prestigious organization is acknowledging all of our hard work and commitment to creating the very best in events."
"Classic Party Rentals is receiving this prestigious honor because they consistently deliver incredible product with professionalism and a true desire to help make any event vision come to fruition," adds David Van Enger, Director of Programs and Board Member of NACE Sacramento. "The entire team goes above and beyond every time. Our members and their clients can count on Classic Party Rentals."
This is the second time Classic Party Rentals Sacramento has been awarded "Meeting of the Year" and was honored this year based on the 2014 NACE Gala hosted at the Classic Party Rental Sacramento warehouse. In addition to providing the warehouse space, the Classic Party Rentals team constructed a 40x50 cleartop tent with a Francois chandelier and Camelot jade and pewter draping. The white Victoria dining tables and farm tables were set with Opus glassware, Ascot flatware, Vine dinner plates on rustic chargers and Coronet platinum dinner plates on smoked elegance chargers, all around Fanfare silver and Chameleon Mahogany Bella fleur chairs.
About Classic Party Rentals
As the nation's leading event rentals and services provider with over 20 locations, Classic Party Rentals is the backbone for more than 150,000 events and celebrations per year. Their network of over 2,000 award winning event professionals is renowned for providing exceptional client services with a fresh and innovative approach to handling the most important events in the country. Boasting over 9 million choices from an unparalleled range of inventory that includes exclusive furniture, china, specialty linens, lighting, heating, flooring, tenting and more, Classic Party Rentals creates events that define the most remarkable moments in time. For more information, please visit http://www.ClassicPartyRentals.com.