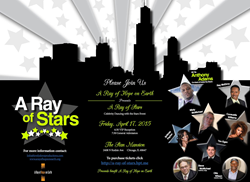 ...it will give us the ability to offer more mentoring to schools who desperately desire this level of partnership. I am also definitely looking forward to seeing these executives and celebrities get after it on the dance floor."
Chicago (PRWEB) April 03, 2015
To benefit Chicago's youth and aid in making an impact in the Chicagoland area through "Camps, Coaching and Community," former Chicago Bear and founder of the non-profit organization, A Ray of Hope on Earth (AROHOE) Ray McElroy, will host the first annual celebrity Dancing with the Stars event, "A Ray of Stars," Friday, April 17, at 7:30 p.m. at the historic Stan Mansion in Chicago.
This evening under the stars will allow guests to witness Chicago's very own top CEO's, professional athletes and local media personalities as they salsa, samba and tango with dance professionals from Chicago Dance to support AROHOE goal to empower youth and create awareness for their youth development programs and events. "A Ray of Stars" will be hosted by the multi-talented former Chicago Bear, Anthony Adams, and will feature contestants such as "Chicago's Best" host Brittney Payton, V103 D.J. Consuella, Roseland Hospital CEO Tim Egan, Misty McMichael wife of 1985 Chicago Bear Steve McMichael, Wintrust Mortgage's Adam McLain, and Founder Ray McElroy. Tickets are $125 for general admission, which includes entertainment, cocktails and gourmet food, and $200 for a VIP reception including exclusive photo opportunities with celebrities. Tickets can be purchased at http://www.brownpapertickets.com/event/1353532, or by calling Brown Paper Tickets' 24/7 event concierges at 1-800- 838-3006.
"I'm excited for the opportunity this event will give us to tell our story to both our old and new donor base," explained McElroy. "This will allow our team to connect with more partners to have a greater impact in our town, and it will also help support our mentoring group (at Wrightwood Academy) on the south side of Chicago. As we grow, it will give us the ability to offer more mentoring to schools who desperately desire this level of partnership. I am also definitely looking forward to seeing these executives and celebrities get after it on the dance floor."
From 6:30 p.m. to 7:30 p.m., pre-reception VIP guests will have the opportunity to meet and greet the celebrity dancers and judges while also enjoying great music, delicious hors d'oeuvres and refreshments. VIP's will have access to exclusive seating during the performance. At 7:45 p.m., all VIP and General admission guests will have the opportunity to witness the sensational contestants, while also personally voting for their favorite celebrity routine. A silent auction featuring premium items will be featured to further raise funds for AROHOE programming.
As a special twist to the entertainment, 1985 Chicago Bear's teammates Steve McMichael and Otis Wilson will join together with two-time United States Dance Champion Gregory Day as guest judges.
For more information, please visit http://www.arayofhopeonearth.org/. The Stan Mansion is located at 2408 N Kedzie Ave, Chicago, IL. For additional inquiries, contact mike(at)lovelydoveproductions(dot)com.
###
Media Contact: Mike Bruce, 847-431-1136, mike(at)lovelydoveproductions(dot)com
A Ray of Hope on Earth exists to transform individuals, families, and communities by sharing the truth that every life is special and significant.
Ray McElroy is a native of Chicago, Proviso West alum and graduate from Eastern Illinois University. He has a Bachelor of Science degree in Economics and he is a licensed minister. He spent six seasons in the NFL playing for the Indianapolis Colts, Detroit Lions, and the Chicago Bears. After retirement, he served as the Bears' team chaplain for 5 years. McElroy is devoting his post football career to encouraging youth, young adults and families through A Ray of Hope on Earth.
Brown Paper Tickets is the socially conscious global leader in online ticketing and event registration services, helping people in 68 countries plan, promote and sell out events. As a social innovator, the company donates 5 percent of profits to charity with every ticket sold, supports a team of full-time community advocates, called "Doers," and still charges the lowest fee for ticketing and services in the ticketing industry. In 2014, Brown Paper Tickets was rated #1 for ticketing and event registration by http://www.FindTheBest.com, and #1 in customer service for the performing arts by Bay Area Dance Watch. The company will open its newest office in New York, N.Y. this summer. To learn more about the world's only Not-Just-For-Profit ticketing company, visit http://community.brownpapertickets.com/press/