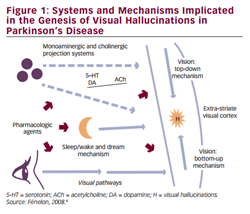 Parkinson's disease psychosis (PDP) occurs frequently in patients with Parkinson's disease (PD) and involves a spectrum of symptoms, from mild hallucinations to those that are more disruptive, as well as delusions.
(PRWEB UK) 5 April 2015
Parkinson's disease (PD) is a progressive neurodegenerative synucleinopathy. Clinical diagnosis is based on the presence of motor symptoms, including bradykinesia, rigidity, rest tremor, and postural instability. Although the cause of PD is still unknown, the severe nigro-striatal dopamine loss provides the basis for dopaminergic treatment of motor symptoms. Nonmotor symptoms are also prominent, probably reflecting more widespread degenerative changes in PD, and include autonomic, enteric, and neuropsychiatric symptoms. Neuropsychiatric symptoms can be prominent, such as anxiety, depression, psychosis, sleep disturbances, and cognitive impairment. This has suggested to some that PD may be accurately described as a neuropsychiatric disease rather than a pure movement disorder.
This review aims to characterize Parkinson's disease psychosis (PDP). "Parkinson's" and "psychosis" were used as search terms in a MedLine review between the date limits of 1990 and 2014. When selecting papers for inclusion in this review, priority was given to papers of higher relevance (as determined by the MedLine database) and to more recently published papers.
Prevalence and Incidence
The prevalence of hallucinations in PD in cross-sectional prospective studies varies widely, from 16 % to 75 % (see Table 1). In a Norwegian population-based prevalence cohort study, 230 patients with PD were followed up prospectively for 12 years.8 The point prevalence of PDP was 17.8 % (41/230) at baseline and increased to 48 % (12/25) at the 12-year visit. Over the course of the study nearly two-thirds of patients (60 %, 137 patients) had developed PDP during the course of their disease. The incidence rate of PDP was 79.7 per 1,000 person-years.
To continue reading this peer-reviewed article in full for free please go to : http://www.touchneurology.com/articles/parkinson-s-disease-psychosis-symptom-complex-signaling-risk-increased-disability-and
Note to Editors:
touchNEUROLOGY (a division of Touch Medical Media) provides independent, cutting-edge, peer-reviewed content from world renowned physicians, designed to lead the debate on health and to engage, inform, and support physicians in improving patient outcomes globally.
touchNEUROLOGY.com provides an international platform for peer-reviewed content from industry-leading journals alongside other carefully selected sources and aims to support physicians, clinicians and leading industry professionals in continuously developing their knowledge, effectiveness and productivity within the field of neurology.
Our portfolio of peer-reviewed journals, European Neurological Review and US Neurology comprise of concise review articles which are designed to keep busy physicians up-to-date with the latest developments in their field and serve as a key reference resource for the international neurology community.