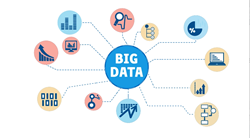 Stylized Motion graphics are getting more and more popular
Chicago, IL (PRWEB) April 03, 2015
Chicago video production company Absolute Vision Media Productions is proud to announce a continued partnership with a well established global insurance software company. Earlier, Absolute Vision Media produced a standalone motion graphics style video for the insurance brokerage company. After the standalone video was viewed, the client was so pleased with the end result that they signed a contract extending the scope of the work to four new motion graphics videos, including one for as the main brand video. This is a great achievement for Absolute Vision Media Productions and good positioning by their client, as it takes advantage of a current trend in corporate media.
Motion graphics, and the commission of motion graphics or animations for corporate media, are a growing trend in wide variety of business settings, not only in business to customer marketing but also business-to-business communications. Motion graphics and animation are a mainstay on company websites, and motion graphics for company events are a trendy way to turn what might be boring affairs into more engaging and exciting, and therefore more productive, meetings.
"Stylized Motion graphics are getting more and more popular," said Mark Smith, founder and CEO of Absolute Vision Media Productions. "And it makes sense. You can use motion graphics to illustrate complicated data. You can use motion graphics to bring pi charts to life. Or you can use motion graphics for branding or entertainment purposes. They're really a versatile medium." Smith went on to say that another reason motion graphics are becoming more and more popular is because the cost involved in producing those graphics has steadily declined.
Video shoots involving crew and locations may not be the best value. Every day on set requires equipment, crew costs, and talent costs. Motion graphics used to be even more expensive. Thanks to the falling costs of rendering and the utility of new software packages, motion graphics animations are more affordable than ever—sometimes much more affordable than a live action shoot. Because of this, many corporations look to motion graphics as a way to bring their brands to life and engage with consumers who are always looking for video components, not only on the web, but also in many other interactions.
Therefore, many companies are looking to increase their stables of motion graphics animations. The insurance, manufacturing, and other business and corporate sectors have its eye on this future, and recognizes the value of these motion graphics animations, especially when it comes to motion graphics for corporate websites. Absolute Vision Media Productions, with experience in both live action shoots and in motion graphics animations, is well positioned to give clients the best of both of these worlds, recognizing the costs and benefits of each phase of the video medium. If you're interested in discussing motion graphics for corporate events or for branding or other purposes, contact them via e. mail at Info(at)AbsoluteVisionMedia(dot)com.
Absolute Vision Media & Video Productions is a Chicago based media and video production company. We offer local video and national-level, production, animation, and experience with local connections and know-how. From location video production, to in studio editing, to motion graphics, to comprehensive branding campaigns, our team is with you each step of the way.

Our local team is made of media and video professionals specializing in video production, advertising, branding, marketing, videography, cinematography, post-production, graphic design, animation, and 3d projection mapping. Absolute Vision Media & Productions has served local Chicago and suburbs for the last fifteen years, and we take pride in our reputation as one of the the Midwest's premier media companies.
About Absolute Vision Media Productions: Absolute Vision Media Productions is a Chicago-based media and production company, and part of the Absolute Vision Media Inc. creative group. Whether for agency-style media, professional video production, local production crew, or general marketing and advertising, Absolute offers national-level experience with local connections and know-how for corporate, educational, commercial, and creative purposes.
See more at: http://www.absolutevisionproductions.com