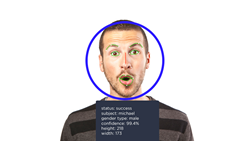 "We truly believe facial biometrics can go beyond security and be the driving force that humanizes technology while changing the way we interact with computers,"
Miami, FL (PRWEB) April 06, 2015
April 6, 2015: Kairos, a Miami-based facial biometrics company, today acquired emotion analysis company IMRSV. With this acquisition, Kairos becomes the only facial biometrics company in the world offering both facial recognition and emotion analysis tools for developers.
In conjunction with the acquisition, Kairos today released two new APIs, a SDK and analytics software:

Kairos Face Recognition API: Allows developers to enhance any application with advanced facial recognition capabilities.
Kairos Crowd Analytics SDK: Allows developers to build software that measures the quantity, gender, age and focus of faces in live video.
Kairos Emotion Analysis API: Allows developers or researchers to recognize a full range of emotions and facial expression in video.
IMRSV (formerly CaraCV): A camera enabled software solution that gathers continuous audience analytics, bringing online measurement to offline engagements.
"We truly believe facial biometrics can go beyond security and be the driving force that humanizes technology while changing the way we interact with computers," said Kairos founder and CEO Brian Brackeen. "The acquisition of IMRSV positions Kairos to take a leadership role in the rapidly growing facial biometrics sector. It also helps us, as a developer centric company, achieve our goal of delivering enterprise quality tools to developers and making facial biometrics and emotion analysis accessible to all."
"Our thinking is a smarter world makes for a better world, and we're fans of that future," said Jason Sosa, Founder of IMRSV . "Kairos shares in our belief of converting the complex into the simple. The impact of these technologies has enormous potential to transform countless industries."
Kairos' shareholders now include Kapor Capital, New World Angels, VenVelo, Quotidian Ventures, Great Oaks Venture Capital, Eniac Ventures, 500 Startups, and TechStars.
To learn more about Kairos, visit http://www.kairos.com.
Pre-launch press content can be found at http://www.kairos.com/relaunch.