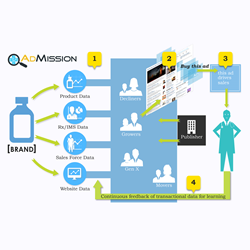 King of Prussia, PA (PRWEB) April 06, 2015
AdMission℠ is honored as a top innovation in pharmaceutical marketing by PharmaVOICE in the April Innovation Issue. As published in PharmaVOICE: "CMI/Compas' AdMission can deliver ads to target physicians when and where they are online. It is a programmatic buying active platform to consistently reach and deliver messages to target healthcare providers in their daily digital environment maximizing the effectiveness of a pharmaceutical brand's advertising or promotional campaign." AdMission℠, launched in 2014, is the absolute latest in buying technology, delivering unparalleled engagement.
By combining the industry's only HCP-level multi-channel promotional access and affinity database covering over 1.3 million MDs, DOs, NPs, PAs, RNs, Pharmacists, and medical students, with the industry's first programmatic buying platform targeting physicians, CMI/Compas offers a level of accountability and addressability with digital display advertising that previously did not exist. ByDoctor® and AdMission℠ work together to increase control of campaign performance and deliver enhanced targeting capabilities.
Building on the heritage of the PharmaVOICE 100, PharmaVOICE announced the launch of the new special Innovation Issue published in April 2015. PharmaVOICE celebrates the culture of innovation and achievement across the global healthcare/pharmaceutical industry spectrum. The issue is designed to recognize companies and organizations that are breaking new ground and changing the healthcare paradigm, as well as innovative products, tools, services, and technologies.
For more information regarding CMI/Compas capabilities and the benefits of programmatic buying with AdMission℠, contact Lindsay Dinan at ldinan (at) cmicompas (dot) com.
About CMI/Compas
Well-known as a media planning and buying organization for healthcare clients, sister agencies Communications Media, Inc. (CMI) and Compas, Inc. together form the indispensable strategic marketing partner to the world's game-changers in health, offering guidance at every level of marketing. CMI/Compas focuses on core service offerings of Media, Innovation, Customer Insights, Technology, and Buying. CMI/Compas is laser-focused on helping clients move the promotional needle. CMI/Compas has offices in Philadelphia; King of Prussia, PA; Pennsauken, NJ; and New York. The family of companies is actively recruiting for healthcare marketing jobs via http://www.cmirecruiter.com.