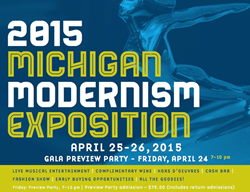 making Michigan the natural destination for learning, collecting, and preserving modern furnishings, art, decorative accessories
Southfield, Michigan (PRWEB) April 07, 2015
Michigan Modernism Exposition
Friday, April 24, 7pm – 10pm
Saturday, April 25, 10am – 6pm and Sunday, April 26, Noon – 5pm.
The 35th Annual Michigan Modernism Exposition opening this year under new management. The 35 year old show was sold to Mitchell Displays, Inc. last August by M&M Corporation. Bob Bockius owner of Mitchell Displays, Inc. has long been associated with show promotion and management as a provider of display cases for shows in the Eastern and Midwestern United States. His company, Mitchell Displays currently supplies displays for more than 75 antiques, collectibles and book shows each year. After having worked with so many longtime players at the top of the market, Bob extended his organizational skills into promotion and management of antique and modernism shows.
Bob recently purchased the Southfield Pavilion Antiques Exposition and the Michigan Modernism Exposition. Having taken over the reigns, Bob has made a financial commitment and a strong personal commitment to rebuilding both shows. Mitchell believes Michigan's rich history for design, art, and its role in the American modernism movement make the Michigan Modernism Exposition an essential part of supporting and highlighting Michigan's modernist legacy. According to Bockius, "This show belongs in Michigan and he is looking to build this into a national and international experience for dealers, and collectors from the experienced to the novice, making Michigan the natural destination for learning, collecting, and preserving modern furnishings, art, decorative accessories."
The show will feature 45 national dealers offering furniture, decorative and fine arts representing all design movements of the 20th century. A full list of exhibitors can be found at http://www.mitchelldisplays.com. The show opens Friday, April 24th with the Preview Party from 7-10pm that benefits the Detroit Area Art Deco Society. Tickets are $75.00 in advance and all proceeds go to the scholarship fund and preservation programs of the Detroit Area Art Deco Society. The theme this year is "Tiki Party" and it includes a specially-curated exhibit of menus, photos and ceramics from the three most popular Detroit Tiki-themed restaurants: Chin Tiki, Trader Vic's and the Mauna Loa.
For the first time ever, the Modernism Exposition has expanded to include a week-long schedule of events to create "Detroit Modernism Week." The Deco Society partnered with many local nonprofit groups and organizations in order to bring several tours, lectures and events to the public. "Our goal is to increase awareness about the Detroit area's mid-century architecture and design," said Deco Society president Jeffrey Chappell.
Events range from the Henry Ford Museum's exhibit of Herman Miller-designed furnishings to a tour of downtown Detroit's Minoru Yamasaki designed buildings. "We partnered with several different groups in order to describe a range of types of events in this schedule – and realized that there are many Modern-themed events happening - and they just needed to be highlighted," said Jeff Chappell. One of the special events for Detroit Modernism Week is a tour of the Mies van der Rohe-designed townhomes in Lafayette Park.
Detroit Modernism Week: A ten day salute to Michigan's contributions to the Modern Movement begins April 16th and closes with the Michigan Modernism Exposition
For a full list of events see: http://www.detroitmodernismweek.com.
Photos available upon request.