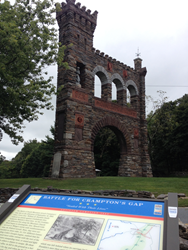 Frederick, MD (PRWEB) April 04, 2015
The event begins at 1 p.m., starting at the Civil War Trail markers near the park pavilion. Gathland State Park is located at 900 Arnoldstown Road in Burkittsville, Maryland. This marker will add a new, discontiguous stop on the popular Civil War Trails route, "John Wilkes Booth: Escape of an Assassin." It tells the story of Civil War correspondent George Alfred Townsend, who reported on the April 1865 assassination of President Abraham Lincoln and published the bestselling book, The Life, Crime, and Capture of John Wilkes Booth. Townsend made his home at this South Mountain estate, which became a state park in 1949, in the late 19th and early 20th century.
The ceremony will kick off Gathland's 150th anniversary commemorations of the Lincoln assassination and the end of the Civil War. This spring, the park will launch enhanced exhibits, family-friendly Park Quest activities, and special programs for Bell & History Day (April 11 in Frederick County), and the Washington County Museum Ramble (weekends in May). The ceremony—which is free and open to the public—will include remarks by Park manager Mary Ironside and the tourism directors in Frederick and Washington Counties, John Fieseler and Dan Spedden, respectively. It will be followed by a reception in the park pavilion.
This marker is made possible through funding from the Tourism Council of Frederick County and the Hagerstown-Washington County Convention and Visitors Bureau. This program is funded in part by a grant from the Community Foundation of Frederick County.
To learn more about this special event, see http://www.visitfrederick.org/civil-war-150th or contact the Heart of the Civil War Heritage Area at info(at)heartofthecivilwar(dot)org or (301)600-4031. Information about the 2015 Park Quest program will be released online around April 10. Photos are available upon request.