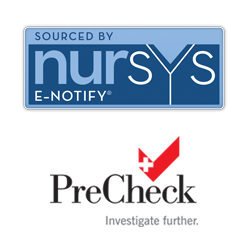 This update brings NCSBN's nurse license notification system to our healthcare license management system, which provides primary source equivalent verification of licenses.
Houston, TX (PRWEB) April 06, 2015
PreCheck, Inc., an employment and background screening firm specializing in the healthcare industry has chosen the National Council of State Boards of Nursing's (NCSBN) Nursys e-Notify to expand PreCheck's healthcare license management system LicenseManager Pro's capabilities. Healthcare human resources professionals and nursing employers will now have access to Nursys e-Notify's publicly available discipline and license status updates provided directly from nursing boards.
"With this update, we wanted to bring NCSBN's nurse license notification system to our healthcare license management system, which provides primary source equivalent verification of licenses," said Dionne Austin, LicenseManager Pro Product Manager at PreCheck. "We are excited to utilize NCSBN's product to bring additional value to our healthcare human resources clients."
With more than 20 years serving the health care industry's background screening and credentialing needs, PreCheck has client relationships with thousands of healthcare organizations.
"Through our utilization of Nursys, we look forward to providing our nursing and healthcare human resources customers with the tools they need to ensure their staff's licenses are in good standing," stated Zach Daigle, Chief Operating Officer and President at PreCheck. "We feel great about providing more value to nursing managers and healthcare employers through this integration."
"As our paramount goal is to support our members, U.S. boards of nursing, in their mission of public protection, this integration enables us to provide to an even larger number of nurse employers automatic licensure, discipline and publicly available notifications," comments Nur Rajwany, NCSBN Chief Information Officer.
For more information about PreCheck's healthcare license management system, LicenseManager Pro, call 866-255-9449 or visit http://www.precheck.com.
About PreCheck, Inc.
Founded in 1983, PreCheck, Inc. has focused exclusively on serving the healthcare industry's background screening and employment qualification needs since 1993. PreCheck serves over 3,000 hospitals, long-term care facilities, clinics, educational institutions, and other ancillary healthcare organizations, across the U.S. PreCheck has evolved over time from a background screening provider into a turnkey outsourcing solutions provider, offering a full suite of background screening, compliance, and credentialing solutions all designed to help its clients adhere to the complex laws and regulations governing the healthcare industry. Based in Houston, Texas, PreCheck was recognized as a 2013 Inc. 5000 company and has achieved Background Screening Credentialing Council Accreditation by the National Association of Professional Background Screeners.
http://www.precheck.com
About NCSBN
Founded March 15, 1978, as an independent not-for-profit organization, NCSBN was created to lessen the burdens of state governments and bring together boards of nursing (BONs) to act and counsel together on matters of common interest. NCSBN's membership is comprised of the BONs in the 50 states, the District of Columbia, and four U.S. territories. There are also 21 associate members that are either nursing regulatory bodies or empowered regulatory authorities from other countries or territories. NCSBN Member Boards protect the public by ensuring that safe and competent nursing care is provided by licensed nurses. These BONs regulate more than 3 million licensed nurses, the second largest group of licensed professionals in the U.S.
Nursys is the only national database for verification of nurse licensure, discipline and practice privileges for RNs and LPN/VNs licensed in participating boards of nursing. There are also some states that provide information on APRNs. See nursys.com for details.