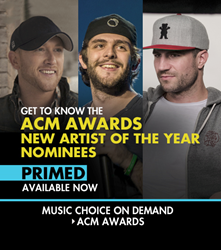 New York, NY (PRWEB) April 06, 2015
Music Choice will feature exclusive content from the Academy of Country Music Awards across all its properties including MC Video On Demand, Music Channels and digital beginning April 6th through the live broadcast of the 50thAcademy of Country Music Awards, April 19, 2015.
Music Choice will air over 30 hours of Academy of Country Music programming including exclusive interviews with nominated artists, backstage interviews, and much more. On Music Choice Video On Demand, an ACM Awards folder will appear featuring music videos from ACM Award winners and hosts, Blake Shelton, Luke Bryan, along with other nominees including Jason Aldean, Miranda Lambert, Thomas Rhett, Lady Antebellum, Brad Paisley and many more. The category will also contain exclusive Music Choice original content from Carrie Underwood, Florida Georgia Line, Sam Hunt and many others. (Directional: MC Music Choice > ACM Awards). MC's Today's Country will feature ACM facts and images tied to nominees leading up to the show. Additional content will also appear on MC Today's Country Video Channel via web and iOS apps including exclusive post show interviews from the red carpet.
The 50th ANNUAL ACADEMY OF COUNTRY MUSIC AWARDS, Country Music's Party of the Year®, honors country music's superstars and hottest emerging talent. Hosted by ACM Award winners Blake Shelton and Luke Bryan, the ACM Awards are produced for television by dick clark productions and will be broadcast LIVE, and as previously announced, extended by half an hour in celebration of its golden anniversary, from the AT&T Stadium in Arlington, TX on Sunday, April 19, 2015 at 8:00 PM-11:30PM ET/delayed PT on the CBS Television Network.
About Music Choice:
Music Choice, the multi-platform video and music network, delivers its music programming to millions of consumers nationwide through their televisions, online and mobile devices. Music Choice programs dozens of uninterrupted music channels; produces originals that feature today's hottest established and emerging artists; offers thousands of music videos; and launched Music Choice Play, the music video, lifestyle and entertainment network for Millennials. For additional information log on to http://www.MusicChoice.com | Twitter: @MusicChoice | Facebook: http://www.facebook.com/MusicChoice
###